Climb the Hill
When day comes, we ask ourselves where can we find light in this never-ending shade?
The loss we carry, a sea we must wade.
We've braved the belly of the beast.
We've learned that quiet isn't always peace,
and the norms and notions of what "just" is isn't always justice.
And yet, the dawn is ours before we knew it.
Somehow we do it.
Somehow we've weathered and witnessed a nation that isn't broken,
but simply unfinished.
We, the successors of a country and a time where a skinny Black girl descended from slaves and raised by a single mother can dream of becoming president, only to find herself reciting for one.
And yes, we are far from polished, far from pristine,
but that doesn't mean we are striving to form a union that is perfect.
We are striving to forge our union with purpose.
To compose a country committed to all cultures, colors, characters, and conditions of man.
And so we lift our gazes not to what stands between us, but what stands before us.
We close the divide because we know, to put our future first, we must first put our differences aside.
We lay down our arms so we can reach out our arms to one another.
We seek harm to none and harmony for all.
Let the globe, if nothing else, say this is true:
That even as we grieved, we grew.
That even as we hurt, we hoped.
That even as we tired, we tried.
That we'll forever be tied together, victorious.
Not because we will never again know defeat, but because we will never again sow division.
Scripture tells us to envision that everyone shall sit under their own vine and fig tree and no one shall make them afraid.
If we're to live up to our own time, then victory won't lie in the blade, but in all the bridges we've made.
That is the promise to glade, the hill we climb, if only we dare.
It's because being American is more than a pride we inherit.
It's the past we step into and how we repair it.
We've seen a force that would shatter our nation rather than share it.
Would destroy our country if it meant delaying democracy.
This effort very nearly succeeded.
But while democracy can be periodically delayed,
it can never be permanently defeated.
In this truth, in this faith, we trust,
for while we have our eyes on the future, history has its eyes on us.
This is the era of just redemption.
We feared it at its inception.
We did not feel prepared to be the heirs of such a terrifying hour,
but within it, we found the power to author a new chapter, to offer hope and laughter to ourselves.
So while once we asked, 'How could we possibly prevail over catastrophe?' now we assert, 'How could catastrophe possibly prevail over us?'
We will not march back to what was, but move to what shall be:
A country that is bruised but whole, benevolent but bold, fierce and free.
We will not be turned around or interrupted by intimidation because we know our inaction and inertia will be the inheritance of the next generation.
Our blunders become their burdens.
But one thing is certain:
If we merge mercy with might, and might with right, then love becomes our legacy and change, our children's birthright.
So let us leave behind a country better than the one we were left.
With every breath from my bronze-pounded chest, we will raise this wounded world into a wondrous one.
We will rise from the golden hills of the west.
We will rise from the wind-swept north-east where our forefathers first realized revolution.
We will rise from the lake-rimmed cities of the midwestern states.
We will rise from the sun-baked south.
We will rebuild, reconcile, and recover.
In every known nook of our nation, in every corner called our country,
our people, diverse and beautiful, will emerge, battered and beautiful.
When day comes, we step out of the shade, aflame and unafraid.
The new dawn blooms as we free it.
For there is always light,
if only we're brave enough to see it.
If only we're brave enough to be it.
poem, Amanda Gorman
inauguration Joe Biden, USA, January 2021
_______________
Very impressive when first heard at January 20th 2021.
And not only of relevance for the USA, but also for St. Maarten I think.
Or every nation having some troubles of unity and harmony
De zegeningen van het mondkapje
Nu iedereen mondkapjes op heeft kunnen we ons een stuk veiliger voelen, maar het nadeel is wel dat al die lieve en mooie gezichten van mijn vrouwelijke collega's voor de helft zijn afgeschermd. Je weet soms niet wie daar achter schuil gaat. Dat kan soms tot pijnlijke situaties leiden, zoals ik gisteren ondervond.
Ik moest met spoed naar een belangrijke vergadering met Ministers en extern vertegenwoordigers. Je wordt uit je werk geplukt en opgetrommeld "want het gaat over 'develoopmen' en jij maak 'development plannen' tioch?, zo was de gedachte. Een paar mensen liepen wat heen en weer te rennen en 1 mevrouw sprong er wel uit, zij leek met de coordinator van het secretariaat te ziin. Zij kwam bij mij en mijn collega staan om met hem te overleggen of hij de juiste persoon voor die meeting was. Ze had een badge met foto en naam op haar bloes gespeld.
Nu was ik toch wel een beetje nieuwsgierig geworden. Wie was nu deze assertieve mevrouw? Ik ken namelijk niet iedereen van het secretariaat. Ik buig me iets verder naar voren om haar naam te lezen en zie: " Silveria Jacob, Prime Minister" [shit man ??!!]. Ze kijkt me aan enb vraag: "Ja, wat wilt u van me", en ik weet er zonder stotteren uit te brengen: "mooie foto heeft u"
24 November 2020
------------------------------
Ombudsman about functioning organization
PHILIPSBURG--Ombudsman Gwendolien Mossel said on Thursday November 19th 2020 […]In outlining the concerns that exist within some ministries, […] she is extremely concerned about the capacity within the VROMI Ministry to adequately serve the public, seeing that it was already difficult to respond adequately to requests of the public and investigations of the Ombudsman.
"Now, with a lack of department heads and some department heads fulfilling their own duties and being acting head of others, the situation has worsened," she told MPs.
"In the last presentation to Parliament, I expressed caution regarding the deficiencies of this Ministry, and as it turns out VROMI had the most complaints for 2019 with 20 complaints. VROMI has therefore taken over the notorious position (of having the most complaints and non-response) held by the Ministry of Justice since the inception of the institution."
Most of the complaints were against VROMI's Departments of Inspection, Domain Affairs and Permits. Mossel said VROMI is a dynamic organisation in society with the ability to generate revenue. Despite the large investments made to improve the Ministry in terms of hiring and training personnel, purchasing new materials (equipment, information and communication technology (ICT), vehicles, etc.) the Ministry has declined in the last several years in its service to the public.
"Backlogs have returned. The lack of proper (planning) infrastructure management (scheduled public works, roadside cleaning, drainage cleaning, garbage collection, road maintenance, proper sewage), enforcement of policies and laws as well as the absence of policies (issuing of lease land), a zoning plan and the constant change of ministers are great contributors to the present state of affairs," she said.
"The public should not be negatively affected as a result of the lack of capacity. When enforcement measures aren't consistently enforced the authority of government is undermined."
Areas of concern include the fact that the majority of departments in the ministry are without a department head; the backlog in the Permit Department and Domain Affairs; lack of capacity, budgetary constraints; lack of enforcement: policies, laws; no policy for the issuing of lease land; no zoning plan (to mitigate noise pollution etc.); lack of proper planning of infrastructure management; instability in government (frequent change of Ministers) and lack of proper sewage.
© The Daily Herald, 20 NOVEMBER 2020
-------------------------------------
Sint Maarten, Beacon Hill, potholes are growing, but some people are creative to mark those to make drivers aware........! :) November 16th 2020.
---------------------
Het [..] verdienmodel van de Caribische elite
De coronacrisis maakt de armen armer en de rijken rijker. Een populaire slogan, die het goed doet op feestjes en verjaardagspartijen. Zeker in de Caribische delen van het Koninkrijk, waar de rijken een extra dansje doen omdat in ieder geval Aruba en Sint-Maarten hun verdienmodel weer hebben opgepoetst in deze coronatijd.
Stel: jij hebt een hoge schuld, de wasmachine heeft de geest gegeven en je portemonnee is leeg. Er is zelfs geen geld om boodschappen te doen... Maar de verlossing ligt om de hoek. Een rijke oom biedt aan om je geld te lenen tegen nul procent rente. Wat zou je doen? Toch niet een oproep op sociale media plaatsen met: wie wil mij geld lenen? Ik betaal vijf procent rente!
Het is verbazingwekkend hoe de regeringen van Aruba en Sint Maarten hun neus ophalen voor het aanbod van Nederland om honderden miljoenen te lenen zodat deze landen in staat zijn hun betalingsverplichtingen te voldoen. Niet alleen de ambtenarensalarissen uit te betalen, maar ook de rekeningen van leveranciers die eveneens hard geraakt zijn door de crisis. Beide landen hebben er voor gekozen op de vrije markt te geld lenen.
Op 100 miljoen kost binnenlands lenen vijf miljoen op jaarbasis. Niet de overheid die de lening aangaat draait daar voor op, maar belastingbetalende burgers en bedrijven. Geld dat bovendien niet kan worden besteed aan de hoognodige verbetering van het onderwijs of de gezondheidszorg. De grote vraag is natuurlijk: waarom willen de regeringen van Aruba en Sint Maarten duur lenen als het ook goedkoop kan?
Voor het antwoord moeten we terug naar 2010. In het kader van de staatkundige hervorming was Nederland bereid 70 procent van de Antilliaanse staatsschuld over te nemen en het restant tegen een heel lage rente ter herfinancieren. Dat verloste de eilanden van vele honderden miljoenen aan rentelasten, jaar in jaar uit.
Mooi zou je zeggen, maar wie waren de grootste tegenstanders? Dat was de rijke elite waarvan het vermogen vaak via een conglomeraat van familiebedrijven is opgebouwd en met tentakels in financiële instellingen. Ze staan bekend als ruimhartige sponsors van maatschappelijke doelen en evenementen en zijn al even gulle sponsors van politieke partijen. Zij hebben van het financiële wanbeleid van opeenvolgende eilandbesturen een pervers verdienmodel gemaakt.
Met hun onroerend goed (en onder verdachte omstandigheden toegespeelde terreinen?) als onderpand leenden zij in de jaren voor 2010 gunstig bij kredietverstrekkers om het vervolgens tegen een veel hogere rente, soms acht procent, door te lenen aan de overheid. Dat was nog eens makkelijk geld verdienen. Je begrijpt nu het verzet destijds tegen de schuldsanering.
Mokkend hebben zij zich geschikt in hun lot.[..]. Voor de bedoelde elite levert geld op de bankrekening hebben verlies op. Er moet immers negatieve rente worden betaald. Dan is een obligatielening een onverwachte buitenkans om het oude verdienmodel af te stoffen. Zelfs als de elite geen geld op de bank heeft staan valt er te verdienen. Met hun kredietwaardigheid kunnen zij bij elke willekeurige financiële instelling tegen één à twee procent lenen en zo drie tot vier procent winst maken door in te schrijven op obligatieleningen van Aruba en Sint Maarten.
Wie in deze tijd vijf procent rendement op zijn kapitaal realiseert is spekkoper. Helemaal als dat risicoloos kan. Want landen gaan niet failliet en in koninkrijksverband al helemaal niet.
Het meest schaamteloze voorproefje van dit verdienmodel hebben we gezien toen Nederland na orkaan Irma Sint Maarten vijftig miljoen dollar wilde schenken voor de herbouw van de luchthaven. De toenmalige regering in Philipsburg wees dat van de hand, zij wilde liever in zee met een 'consortium van respectabele geldverstrekkers' dat 'bereid' was honderd tot tweehonderd miljoen te lenen tegen een rente tussen de vijf en tien procent. Nederland heeft er een stokje voor gestoken. [..] Het verdienmodel van de elite met de politiek in de kruiwagen.
© gepost door Dick Drayer op oktober 19, 2020
https://deachterkantvancuracao.blogspot.com/2020/10/het-perverse-verdienmodel-van-de.html
--------------------------
The Second Chamber expressed concerns about St. Maarten in the process to negotiate further liquidity support.
"I don't know any more what to do with St. Maarten. I am under the impression that the island is drifting further away from us," said MP Chris van Dam of the Christian Democratic Party CDA.
"St. Maarten is family, but family whom you almost never see again," said Ronald van Raak of the Socialist Party (SP).
(C) The Daily Herald, October 9th 2020
----------------
What is government strategy to beat recession?
Dear government,
You are our (elected) boss.
You told us recently – if the newspapers are right – that the government has no money left in stock at the end of October 2020.
Without any additional communication from you, this keeps us wondering how we (civil servants) have to pay our bills starting from the end of October 2020,
I feel people around me being very unsure because of this issue. Is our major employer being able to pay its dues? It gives a lot of tensions!
This is in fact the same question that many other employees have (not being civil servants); how long may they expect to be paid by their employer?
The communication plan about this important matter by the government seems to be simple; there is none!
Day by day, people try to reach me and ask me about my expectations of government actions, and I have to be honest; even as direct advisor to the Minister I have no clue at all about future decisions and their consequences for the people of St. Maarten!
Mind you, how I am feeling! I try to comfort those in problems who are asking me for clarity (which I unfortunately cannot give because as a civil servant I am not aware of any direction the government is intended to go). I even give them a ride privately leaving from the government parking space in front of the government building to SXM hospital, and some private money for those convincing me not being able to pay any medicine needed!
To be fair; from one day to another I feel more and more being working in a third-world country! People surrounding me because they know I am from the government asking me what the future looks like, because they hear really nothing from those who should protect them. What is plan A, B or C as promised by our Prime Minister?
We have unfortunately seen nothing up till now as yet!
Government, if it is not for me, please communicate your strategy to the people of SXM.
In what way may the people of SXM rely on you, protecting their interests as best as you can?
What is your strategy? It is fully unclear to me and to a lot of people from SXM.
Please let us know!
Aren't we the people of SXM who gave you a mandate to govern and protect us!
This is just a reflection of sentiments by the people of SXM.
I should say; it is your task to comfort us with your strategy and your capability to reach the goals of that strategy. It has been quite for a lot of weeks!
Name withheld at author's request
(C) the daily herald, October 5th 2020
______________________

Voor optimisme moet je op Sint Maarten naar de kerk
Voor optimisme moet je op Sint Maarten naar de kerk. Daar, tussen kleurrijke heiligenbeelden en briesende ventilatoren, troost de priester van de Sint Maartenskerk in Philipsburg, een bebrilde Pool, zijn toehoorders met de gedachte dat het lijden van het heden verbleekt bij de heerlijkheid van de toekomst.
Het is zoeken naar lichtpuntjes op Sint Maarten, drie jaar nadat orkaan Irma een chaos aanrichtte op het eiland. Van de duizenden huizen, scholen en andere gebouwen die op 6 september 2017 vernield of verwoest werden, is een groot deel nog altijd niet door de overheid of hulporganisaties aangepakt. Bij gebrek aan actie heeft een deel van de eilandbewoners er zelf werk van gemaakt. Mensen zoals Nigel Curtis (50).
Als Curtis terugdenkt aan Irma, denkt hij direct aan het huilende geluid van de windstoten, 300 kilometer per uur, die over het eiland raasden. "Het was alsof er een geest door het huis waarde. Alsof iets je op de hielen zat." Met zijn vrouw en twee kinderen zat hij uren in de badkamer, precies zoals de regering vooraf op de radio had aangeraden. Een kleine ruimte, zonder ramen, daar zit je het meest beschut.
Het was een van de weinige keren dat Curtis in die dagen iets vernam van zijn eigen overheid. Er is geen ambtenaar langs geweest om de schade op te nemen, geen arbeidskracht om het herstel van de golfplaten op zijn dak te regelen. Het herstel van zijn woning, een vrijstaand huis in de bergen van Middle Region, is drie jaar later nog steeds niet voltooid. Alle reparaties heeft hij zelf moeten regelen. En hij is niet de enige. "Iedereen die ik ken heeft het opknapwerk zelf gedaan. Misschien was de overheid te druk met het helpen van anderen, ik weet het niet."
Sterker nog, veel vaker kwam het geld nooit aan op Sint Maarten. Direct na de orkaan stelde Nederland 470 miljoen euro als gift beschikbaar voor de wederopbouw, bovenop de eerste humanitaire hulp. Van dat geld was eind 2019 slechts 5,8 procent daadwerkelijk uitgegeven, concludeerde de Algemene Rekenkamer van Sint Maarten mei van dit jaar. Diezelfde maand drong de Nederlandse Rekenkamer aan op een "substantieel andere en versnelde aanpak van het herstellen van huizen en scholen". Anders, waarschuwde de Rekenkamer, wordt het fonds in 2025 opgeheven voordat het merendeel van het geld is uitgegeven.
De stranden zijn weer gladgestreken, de grootste hotels zijn de afgelopen drie jaar weer opgelapt – voordat de coronacrisis ze tot een nieuwe sluiting dwong. Knijp je ogen dicht, en Sint Maarten lijkt herrezen uit zijn as.
Was het maar zo, verzuchten eilandbewoners. Want er zijn ook plekken waar de tijd sinds die zesde september stil heeft gestaan. De vertrek- en aankomsthallen op Princess Juliana International Airport zijn een puinzooi en afgesloten voor reizigers. In de tropische baaien en inhammen dobberen 83 scheepswrakken, de fotograaf heeft ze geteld. Onkruid tiert welig op de veranda's van verlaten vakantiehuisjes, optrekjes die ooit idyllische luxe uitstraalden maar nu ronduit apocalyptisch ogen.
Het grootste gemis bij de wederopbouw is bestuurlijke ervaring en capaciteit, zegt [Nederlands Vertegenwoordiger] Johnson, een vlotte prater met een baardje, in het kantoor van de Nederlandse vertegenwoordiging. "Er zijn landen waar niet eens een regering zit, en toch werkt daar alles soepel. Hoe kan dat? Omdat die landen continuïteit en expertise hebben. De regeringen wisselen elkaar niet zo snel af, de politiek is stabiel. Daar ontbreekt het aan op Sint Maarten."
Sint Maartenaren verras je niet meer met rapporten en noodkreten. Toen hun eiland tien jaar geleden een zelfstandig land binnen het Koninkrijk der Nederland werd, waren de beloften groot. Hun pasgeboren land zou eindelijk soeverein kunnen beslissen en economisch zou het zichzelf bedruipen. De macht aan de bevolking, weg koloniale kater, nooit meer een opgeheven hand.
De tussenstand? Die valt tegen. Macht aan de bevolking? In tien jaar tijd zijn vijf verkiezingen gehouden en negen regeringen versleten. Zelfvoorzienend? Terwijl Irma en corona tikken uitdeelden aan de eilandeconomie zijn de uitgaven hard gestegen, niet in de laatste plaats omdat de salarissen van bestuurders en volksvertegenwoordigers hoog liggen en de ambtenarij na de onafhankelijkheid in 2010 alleen maar groeide.
De jonge staat — met naar schatting amper zestigduizend inwoners — functioneerde vanaf het begin moeizaam. Toen het eiland na Irma hulp van buiten inriep, was het vertrouwen in het eilandbestuur vanuit Nederland gering.

En dus doen de Curtissen en Claxtons wat ze altijd hebben gedaan: ze zien de overheid als bijzaak en regelen hun zaakjes zelf. Zoals ze ooit hun eigen huis bouwden en de weg erheen aanlegden, zo herstellen ze nu zelf de schade. "Raam voor raam", zegt Florence Claxton trots. Het dak boven haar hoofd is gelukkig van beton en heeft het tijdens de orkaan gehouden, zodat haar man Franklin, die grotendeels verlamd is, ook tijdens de grootste bui droog in de woonkamer kan zitten.
Boos is Claxton niet. Kijk, van het houten huis aan de overkant van de straat staat alleen het fundament nog overeind, dus ze zijn goed weggekomen. Wat heeft ze ook aan woede? "Alleen God begrijpt alles. Ik kan me ertegen verzetten, maar ik kan er niets aan veranderen. Ik ben liever dankbaar, aan huilen doe ik niet. Niet tot ik onder de grond zit."
NRC, reportage, Rik Rutten, 6 september 2020
n.b. mijn persoonlijke mening is dat de overheidsorgansatie de reguliere taken aan kan, maar zodra er iets meer of iets anders gedaan moet worden gaat het mis. Onkunde, onwil, onvermogen, gebrekkige aansturing, zowel vanuiit de politiek (regering als parlement) als binnen de organisatie zelf.
-----------------
PHILIPSBURG:---A group of Venezuelan nationals has reached out to the media asking for assistance to return to their country. The group of more than 100 people said they need the government of St. Maarten to arrange a flight for them since they do not have any consulate on St. Maarten that can assist with arranging repatriation.
Based on the information the group provided they said they have no problem paying their own airfare back to Venezuela since they are trapped on St. Maarten and do not know where to go for assistance. For further information on the group, contact can be made with Lice.
(C)https://smn-news.com/st-maarten-st-martin-news/35617-venezuelan-nationals-asking-for-governments-help-to-arrange-repatriation-flight-at-their-expense.html, September 9th 2020.
A small article, but with shocking meaning. Venezuela is known for its really bad situation over there economically the last couple of years, causing a lot of people to leave their country. But now this people begging government SXM to help them please to go back to a situation that is know as bad, but apparently less bad then the situation they are in now here at SXM.
_____________________
The challenges to come
"You must never confuse faith that you will prevail in the end - which you can never afford to lose - with the discipline to confront the most brutal facts of your current reality, whatever they might be." USA Admiral James Stockdale.
The full impact of the COVID-19 crisis is slowly becoming clear. Large parts of St. Maarten's economy have come to a virtual standstill and Government's revenues have decreased to a level never experienced before (including the immediate aftermath of hurricanes Luis and Irma). [..]
The reduction in foreign exchange income as a result of the dual crises brought by Irma and COVID-19 does not result in an import reduction that is directly proportional. As such, the lack of any significant additional foreign exchange (in the form of tourism dollars or liquidity support) income, puts tremendous pressure on keeping the Antillean Guilder pegged to the US Dollar. This decreases the stability of the currency's value, which is considerable economic risk. No significant inflow of foreign exchange to at least cover the import deficit puts the currency in crisis. [..]
Sint Maarten will need (at the very least) another NAF 263.2 million to cover the 2020 budget as presented on May 5th 2020, and that is if, and only if, the revenues of government do not deteriorate further than was anticipated prior to April 2020. If all stays the same, at least a similar amount would be needed for the year 2021, again assuming government revenues stay around NAF 347 million. That brings the total up to an absolute minimum of NAF 525 million and if there were any desires to execute some very much needed investments (education, the prison, the social security system and the economy come to mind) much, much more is needed.
In fact, it is very well conceivable that much more will be needed if the numbers released late last month in a writing to the Second Chamber are any indication. These indicate a drop of over 74% in the revenues reported in May compared to April, when the full impact of the COVID-19 crisis was still to come and the longevity perhaps still somewhat underestimated.
Topping this off is the fact that even prior to the COVID-19 crisis the country was already unable to meet its obligations, hence the liquidity assistance for the years 2017, 2018, 2019 and 2020 provided to her by Kingdom partner The Netherlands. After this crisis, the liquidity gap will be larger than the sums provided for yearly. From its inception Country St. Maarten has not been able to book an actual surplus in any of the years of its existence. [..]
Cruise arrivals are firmly at 0%, while occupancy is currently hovering at less than 20% on average for Q2. Literally everyone has felt the impact of this crisis, employers and their employees, hotels, car rentals, taxi-drivers, restaurants, wholesalers, retailers, all service providers and even grocery stores. At the moment, approximately 3000 families, close to 25% of our official population depend on food support provided to them by local NGO's, funded by the Netherlands. Significant global recovery, which in return impacts our recovery, is continuously being pushed forward, with US and European economists now predicting their recoveries taking a much slower route, then the previously anticipated/hoped for "V" shaped recession, consequently this means that, even in a very ambitious scenario, any local meaningful recovery should not be expected for years to come, as our economy's recovery will lag that of our source markets. [..]
In addition to investments in product that are required, the global tourism market and in turn Sint Maarten's target markets are suffering through its biggest upheaval, perhaps ever. Cruise lines are extending their return dates far into the second quarter of 2021, and major fleet reductions may negatively impact cruise traffic for years to come. In addition, cruise lines may consider adapting their initial schedules to domestic-only to overcome travel restrictions. [..]mass tourism as we know it may not recover to levels previously enjoyed.
IATA indicates that full air traffic recovery may not be possible for years to come, with 2024 now being anticipated. While international travel remains sluggish because at least in part of the travel restrictions that COVID-19 has brought. Add to this an airport that has not yet been rebuilt, and there is enough reason to doubt immediate bounce-back capacity of the stay-over segment as well, in truth St Maarten has had difficulty ever reaching pre-Luis numbers. [..]
In short the Country will need to borrow an enormous amount of funds if the government wants to prevent a close-down of government and to be able to pay its employees and finance its programs, including fulfilling its obligations to APS and SZV (which manages a.o. the AOV fund) AND execute a strategy that ensures sustainable economic survival after 2021. [..]
With regard to borrowing, the CBCS indicated that St. Maarten would not be able to achieve fiscal sustainability of the public sector finances in the next 20 years when continuing as is. Furthermore, their analysis showed that if the government wants the debt-to-GDP ratio to return to its pre-crisis level in the coming 20 years, it will not be able to borrow anymore after 2020. Their conclusion is that, only if the government were to cut its annual expenditures by ANG 50 million for a period of 5 years, starting in 2021, a sustainable fiscal path would be achieved. [..]
© September 3rd 2020, https://www.sxm-talks.com/soualiga-newsday/shta-open-letter-to-the-prime-minister-soualiga-newsday/ The St. Maarten Hospitality & Trade Association (SHTA) has released an open letter addressed to the Prime Minister with respect to the current COVID-19 crisis the country is facing.
Again, a plain and clear analysis of the current situation and the challenges to come. Wondering how this will take place knowing the context of the governing of Sint Maarten, meaning the political and organizational capabilities. Will a turtle ever be able to run as fast as a rabbit?
----------------------------------
Little Switzerland closes
The message below from the high class juwellery shop Little Switserland is indicating a clear expectation of the upcoming year to come, shocking in its clarity and outcome.
WILLEMSTAD–In a press release the board of directors of Little Switserland Holding Curaçao NV, announced they were closing their doors.
The decision was taken on August 13 during a meeting to discuss the on-going COVID-19 pandemic which has resulted in "unprecedented business challenges."
"The global recession, which began in 2008, was one of our biggest challenges and its impact still prevails. Higher cost and unstable revenue flows resulted in annual operating losses that have become unsustainable. We had hoped to weather the COVID-19 pandemic [..], but now that seems highly unlikely.
"The return of cruise ships is uncertain, and it is unlikely there will be any cruise ship visits for the rest of 2020 and possibly well into 2021. The cruise lines simply have not figured out how to safely offload, then reload passengers in any port without being able to control possible exposure to the virus, and this challenge will not be overcome fully until a vaccine is readily available. We believe the historical cruise ship passenger numbers will take many years to recover and may never reach pre-COVID-19 levels.
"Air travel to Curaçao is also a challenge with ever-changing local restrictions and the general prevailing attitude among travellers that air travel may not be safe. Simply put, the number of tourists that will visit Curaçao in the foreseeable future will be extremely limited.
"Although we have a wonderful local customer base, we simply cannot operate any longer without a strong tourist base. Therefore, we have made the difficult decision to close our Little Switzerland store in Curaçao effective immediately.
"We thank the people of Curaçao for their many years of support, and wish them all the best for their health and safety during these difficult times."
(C) The Daily Herald, August 24 2020.
_________________________
Opportunisme
Het is een ongeschreven regel in de Arubaanse politiek dat je niet je eigen team benadeelt, ook niet wanneer je ziet dat leden van je team verkeerd bezig zijn. Je moet altijd rekening houden met het belang en de wensen van het team, de eigenaren, de sponsoren en de harde kern van de achterban. In die volgorde. Je moet ook altijd het imago van de partij en de kansen om te scoren voor de volgende verkiezingen voor ogen houden. Het algemeen belang is aan dit allemaal ondergeschikt. Het is 'window dressing', zoals dat heet.
Het is een wereld op zich, met eigen regels en een eigen moraal. Alle politici zijn eraan gebonden en hun toekomst en die van iedereen die van hen afhankelijk is, valt of staat bij hoe zij binnen die parameters opereren elke dag. In deze wereld waar lang niet iedereen een volle inkijk heeft en waar de normale regels van de maatschappij en de verwachtingen ten aanzien van deze politici totaal niet gelden, is bijna niets wat het lijkt.
Zwart is wit en wit is zwart, en er speelt altijd iets anders dan wat tegen de achterban wordt gezegd. Alleen intimi en mensen die op financieel gebied iets voor de politicus of de partij kunnen betekenen hebben toegang en voor de rest worden het publiek, de pers en – voor zover het nog kan – Nederland buitengehouden. Het gaat er keihard aan toe en de bedragen die erin omgaan zijn enorm. Maar die worden ver buiten het zicht van iedereen, via offshore accounts in niet voor de hand liggende plaatsen als Delaware en Zweden, overgemaakt.
Wat je [..] ziet is slechts het topje van de ijsberg, de rook van de uitlaat, het restvuil dat niet meer valt weg te vegen. Een charterterminal voor de goede vriend van je connecties, een nachtclub voor zoonlief, een contract met lompe bedragen voor de partijsponsor, terreinen, concessies en voorkeursbehandeling voor je maten. [..]
Dit is de Arubaanse politiek en geldt in verschillende mate voor iedereen, van de capo di tutti capi tot aan de domme zetelvuller die maar blij mag zijn dat hij of zij mee mag doen en zo'n 10K elke maand op de rekening krijgt met uitzicht op een lekker pensioen. Dicteren en gehoorzamen, eigenaren en uitvoerders. Je kan partijleider en zelfs premier zijn, maar dat maakt je nog geen eigenaar. [..] Politiek is opportunism [..].
Bron: Den Cayente, geplaatst op 2 augustus 2020 door redactie curacao
Ariën Rasmijn (1975) is freelance journalist. Naast zijn publicaties in Amigoe en diverse andere media schrijft hij in deze column regelmatig over nieuws en politiek in Aruba
REACTIE
Bolivar | 2 augustus 2020 om 14:59 |
"Het is een ongeschreven regel in de Arubaanse politiek dat je niet je eigen team benadeelt, ook niet wanneer je ziet dat leden van je team verkeerd bezig zijn. Je moet altijd rekening houden met het belang en de wensen van het team, de eigenaren, de sponsoren en de harde kern van de achterban. In die volgorde."
Same goes for Curacao and St. Maarten. Seems only Bonaire knows how to take care of business.
________________
Roerige dagen in Willemstad
De week is nauwelijks van start
Roerige dagen in politiek Willemstad
Boze gezichten en onduidelijke redenen
Egotrippers en vertrekkende leden
En wij het volk
Wie denkt er aan ons?
Albert Comenencia,
Curaçao
Albert Comenencia. [..]. Houdt "altijd" in gedachte dat Mom Nederland altijd barmhartig, gastvrij, en vrijgevig was en nog steeds is jegens ons, Zij behandelt ons met medegevoel. Dat is een belangrijk facet van haar. Kan een vrouw (Nederland) haar zuigeling(Corsow) vergeten, zodat zij geen medelijden zou gevoelen voor de dochter(Cur.) van haar buik? De emotie die Nederland ertoe beweegt barmhartig te zijn, wordt vergeleken met de innige gevoelens die een zogende moeder gewoonlijk voor haar kind heeft. Nederland ziet dat het onze schuld niet is, zij heeft begrip hiervoor, maar vooral begrip voor ons lijden en verdriet. Is dat geen moeder om enorm veel van te houden?? En Albert, bewogen door het medegevoel of mededogen dat dit in haar(Ned.) opwekt, geeft de moeder haar baby(Cur.) wat hij nodig heeft. Wij zullen never, maar ook never iets tekort schieten bij onze Mom. Maar die regering moet eerst weg. Albert, maak je geen zorgen over de dag van morgen, want die heeft al zijn eigen zorgen. Eten zullen wij stellig.
(C) Knipselkrant Curacao, 24 Juli 2020
------------------------------
Het Arubaans kernprobleem

Al meer dan 30 jaar worden als belangrijkste problemen voor een gezonde ontwikkeling benoemd: de structurele politieke patronage in het benoemingen-, terreinen- en projectenbeleid, het deficiënte financieel beheer en de 'verdachte gang van zaken' bij overheidsprojecten.
Verdere kenmerken: het ondeugdelijk functioneren van de Trias politica en het 'checks & balances-systeem' alsmede de ondoordringbare 'red tape' die investeerders dwingt de kortste weg te zoeken via ministers die willen bijverdienen. Het was 'de politiek' die hier verantwoordelijk voor was en ook diezelfde 'politiek', die er voor zorgde dat er geen verbeteringen in 'het systeem' werden aangebracht die het 'verdienmodel' aantastten.
(C) Armand Hessels, 19 juli 2020, Knipselkrant Curacao
noot: Dit geldt denk ik voor meerdere (ei)landen in en rondom de Caribische zee.
__________________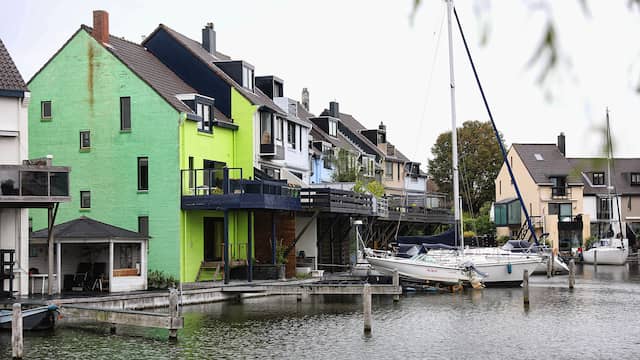 'Appeltjesgroen' huis in Den Helder moet overgeschilderd worden
15 juli 2020 10:40. www.nu.nl
De 'appeltjesgroene' gevel van een huis in Den Helder mag niet dezelfde kleur blijven, zo heeft de Raad van State woensdag geoordeeld in een beroep in de zaak. De rechters benadrukken dat het er niet om gaat of de kleur "mooi of vrolijk" is, maar oordelen dat de kleur te ver afwijkt van de eisen die zijn gesteld door de gemeente.
In de buurt is veel commotie ontstaan over het huis. Diverse omwonenden wilden al in gesprek over de kleur van de gevel, die door sommigen 'appeltjesgroen' wordt genoemd en door anderen 'geelgroen'. Ook de gemeente wilde liever een andere kleur op de gevel.
Na deze reactie van de gemeente startte Ineke van Amersfoort, de bewoonster, een zaak bij de rechtbank in Amsterdam. Deze oordeelde echter ook dat ze het huis moest overschilderen.
"Dat de gemeente haar in 2008 wel toestond om haar huis groen te schilderen, maakt dit niet anders. Toen ging het namelijk om een andere, minder felle tint groen", zo zei de rechtbank vorig jaar. Hierop is de vrouw in beroep gegaan.
Ook de Raad van State zegt nu dat de gemeente gelijk had in het standpunt dat de geelgroene kleur "door de intensiteit daarvan afbreuk doet aan de harmonie in de wijk". Het is niet bekend welke kleur het huis nu zal gaan krijgen.
Een paar reacties
Jacques 12 minuten geleden
Sommige mensen verven hun haar blauw of in dit geval appeltjes groen. En zolang zij niet voor de spiegel staan moeten andere wereldbewoners daar ook naar kijken die in deb nabijheid komen. Zoals ook buren en bezoekers in de supermarkt enzo. Gaat de gemeente ook het verven van haar in bijzondere kleuren verbieden? Of verandering van haarkleur verplicht stellen als die te opvallend is en de buurt zich eraan ergert? Of mag zo iemand dan niet meer over straat overdag?
LaMar 2 minuten geleden
Nou , ik vind bijvoorbeeld curaçao er ook niet als een zooitje uitzien maar het kleurrijke stemt je juist een stuk positiever.
In Nederland moet blijkbaar alles grijs,grauw en dus depressiviteit uitstralen
Berend Breuker 38 minuten geleden
Vind het ook wel een leuke kleur. Het mag allemaal ook wel wat kleurrijker in nl. Daarnaast kom ik geregeld in den helder en om nou te zeggen dat het zo'n sfeer volle stad is...
RobuitRusland
Nederland is een land waar de calvinistische cultuur nog steeds een rol speelt in smaak en regelgeving. Ook hier geldt de vreselijke slogan: Doe maar normaal, dan doe je al gek genoeg'. Kleinburgerlijk calvinisme, met eenheidsworst en vooral een grauwe mentaliteit; 'het leven is tenslotte geen feestje'. Daarom zijn onze steden grijs en bruin waarbij een kleurrijke kwinkslag koste wat kost vermeden moet worden.
Wat was het altijd een verademing als ik op reis ging naar het zuiden; de kleurrijke pastelkleuren van de huizen tussen het groen. Zelfs in Rusland is het tussen de grijze communistische flats een veel bonter geheel en zijn de Datsja's met blauwe daken en fantasiebouwsels een lust voor het oog. Ach ja, nederland...
Hebjehaarookweer
53 minuten geleden
Die gekleurde huizen vind je ook in Ierland terug, maar hoe gezellig dat ook is, het is niet ontstaan uit gezelligheid. Het is ontstaan omdat huizen nu eenmaal zo nu en dan een opknapbeurt moeten hebben. Als je dan naar de plaatselijke winkel gaat en daar is die maand toevallig alleen roze en groen verkrijgbaar, dan wordt je huis dus roze of groen. Uiteraard zal dat daar nu ook wel anders zijn, maar vroeger, toen de mensen het zich niet konden veroorloven om voor zulke aankopen naar de "grote stad" te gaan, was het beperkte aanbod in de lokale winkels de enige optie.
----------------------------
Way forward
The [Dutch] document [analyzing the current socio-economic situation and way forward] does not go far enough to address the structural imbalances in the context of the size of our economies for several reasons. For one, the merit of having a central bank depends on the decision of whether to dollarize or not. For a second reason, the functions of the Sociale Verzekerings Bank (SVB), Algemeen Pensioenfonds Curacao (APC), Sustainable development Corporation KORPODEKO, and Ontwikkelings Bank Nederlandse Antillen (OBNA) can all be done on the Kingdom level through existing Dutch institutions thereby structurally reducing the cost to society.
If we are to create sustainable public finances and sound macroeconomic policies, the size of the public sector must be consistent with our economic realities. However, if we are to reconcile our hopes and aspirations with the Kingdom realities, certain basic government functions can be guaranteed only by achieving scale economies on the Kingdom level.
Dr. Emsley Tromp, July 9, 2020, former director of the Central Bank of Curacao and St. Maarten
https://www.knipselkrant-curacao.com/opinie-the-supervisory-failure-of-the-rijkswet-financieel-toezicht/#more-293605
Normally I do not always agree with the opinion of Mr Tromp, but I do agree with this part of his analyses. Be critical what you can do within the scale you have and look for alternatives getting things done if your scale is too small.
---------------------------------
Black and White; Us and them
The Dutch parliament adopted yesterday a motion to demand the state secretary to intervene in the prison-situation in St. Maarten, meaning demanding him to create on St. Maarten a new/adjusted facility by The Netherlands on the expenses on St. Maarten.
It results in two totally different reactions, seldom seen so contradictory. Wondering if this reflects a schism in the communio opinion as well. At least it seems there are certain people having a totally contrary vision then other people. Opinions can be different. Of course. However, I hope that everyone wants to try to be open, connective and cooperative to each other, at the end way more preferable, instead of the polarizing 'us and them' tone, I should think.
The first article
In view of the many devastating reports the European Committee for the Prevention of Torture and Inhuman or Degrading Treatment or Punishment (CPT) and the Law Enforcement Council have written for years about the detention conditions in Pointe Blanche and the total lack of follow-up, such intervention by the Netherlands (to provide an adequate facility) is an absolute necessity, according to Hatzmann.
"Hundreds of years ago, the Netherlands had an economic interest in the exploitation of St. Maarten, but this is no longer the case today. On the contrary, the Netherlands does not receive any benefits from St. Maarten. St. Maarten is only a hefty cost item for the Netherlands. The Netherlands only retains the constitutional ties with St. Maarten and provides financial, material and personnel support because, in view of the past, it feels morally obliged to do so.
"After Hurricane Irma, the Netherlands sent food parcels and a large group of marines to prevent people in St. Maarten from butchering each other for water and food and to prevent that looting would end up in mass executions of apocalyptic proportions.
"If the Netherlands intervenes in the prison system in St. Maarten, it is because it wants to end a pitch-black period of years of structural serious violations of human rights. The local administrators have looked away all these years and have done nothing about this very substantial problem. In doing so, they have pinned themselves with a certificate of inability, and in that case it is quite ridiculous to use words like 'colonisation' and 'colonialism' with sacred indignation. They should be ashamed of themselves."
According to Hatzmann, the bottom line is that the Netherlands often comes to the aid of St. Maarten and the other islands of the former Netherlands Antilles when a humanitarian problem of some magnitude, often caused by the incompetence of the local administrators, threatens to arise.
"The Netherlands does this to ensure that residents in the other parts of the Kingdom can also live as much as possible at the same level of prosperity and security as in the Netherlands. Therefore, this intervention has nothing to do with neo-colonialism, quite the contrary."
The Netherlands is by far the largest country within the Kingdom and must structurally provide the other countries, including St. Maarten, with large financial contributions to prevent these countries from ending up in a humanitarian crisis or going bankrupt.
"St. Maarten is not a country, it is a village that acts like a country in a way that can be considered both laughable and annoying, but at least completely over the top.
Hatzmann said he is "convinced" that the vast majority of people in St. Maarten do not care about constitutional affairs.
"Fairly abstract ideas such as self-government and independence do not play any role in everyday life. You do not get extra bread at the bakery, let alone [does it – Ed.] offer you comfort when your child chooses a criminal career because of the hopelessness of his existence and ends up in jail, or is shot.
"People want to live as prosperous, healthy and safe as possible. That makes them happy. And if it is necessary for the optimal happiness of the community that the Netherlands will exercise more influence on the government and policy of St. Maarten, people will wholeheartedly agree, even if it comes at the expense of the power of Jacobs and her political cronies."
Dean of the St. Maarten Bar Association Gert Hatzmann, July 3rd 2020, The Daily Herald
The second article
United People's (UP) party Member of Parliament (MP) Grisha Heyliger-Marten on Thursday characterised the statements of St. Maarten Bar Association Dean Geert Hatzmann as racist and bigoted. She called on the association to state its formal position on the statements.
Hatzmann recently said he was pleased that the Dutch government had passed a motion to seek to take over St. Maarten's prison system (see related story).
"The fact that Mr. Hatzmann sees the people of St. Maarten as 'little village people' proves that he is part of the bigger problem," said Heyliger-Marten.
She said she considers it a "direct insult to St. Maarten, its people, and those whom the people elected, that an attorney working and living on the island calls St. Maarten a 'little village that plays like a country.'
"If you live on our island and have the audacity to call us hungry criminals who would have killed each other if the Dutch didn't send food baskets and soldiers with guns to stop us from killing each other over it, then you are part of the problem.
"It is very unfortunate that people like Mr. Hatzmann tarnish the reputation of the Dutch population in general, including those in the Netherlands who have publicly spoken out and demonstrated against racism lately," said Heyliger-Marten.
According to her, Hatzmann's statements are historically biased.
"As a European Dutch national, Mr. Hatzmann should know it is his mother country, the Netherlands, who has a 'jet-black history' of pillage, genocide, suppression, slave trade, the betrayal of Jews, and other crimes too numerous to mention. …
"Mr. Hatzmann could have easily accessed the extensive academic research by legal scholars who actually know what they are talking about on the unfinished decolonisation of the Caribbean islands before making his reckless statements. …
"Mr. Hatzmann seems to put his biased trust in the ability of failed civil servants of a colonial, self-confessed institutionally racist narco-state that has admittedly lost the war against organised crime, an EU-designated tax haven, and a country where several ministers were forced to resign due to incompetence and immoral and lawless behaviour, to fix problems in St. Maarten.
"Because of this unfinished decolonisation, St. Maarten has been prevented from taking full advantage of its development potential and the options to directly access financial and other resources, from sources other than the Netherlands. …
"I will not sit back while certain Dutch colonial elements on the island or elsewhere try to ridicule St. Maarten and its people with racist and colonial remarks, and certainly not when they enjoy all that we have offered them over the years," said Heyliger-Marten.
July 3rd 2020, The Daily Herald
--------------
How to Reset the Economy
Please allow me to share the text below with you, because I liked the way of thinking about possible steps to go, on a path of hope, a possible direction for a resilient future.
So far, the focus has primarily been on overcoming the COVID-19 health crisis, and rightfully so. But we also need to understand the root causes of the systemic corona crisis and plotting a part of the future. The [..] measures from governments and central banks will determine economic developments in the years to come.
Root causes
[Viruses] like corona, are far more likely now to transfer from animals to humans than they used to be. Rampant deforestation, uncontrolled expansion of agriculture, intensive farming, [..] infrastructural development, as well as the exploitation of wild species, have created a perfect storm for the spillover of diseases from wildlife to people.
The Covid-19 disease and the crisis it triggered have exposed societal inequality and weaknesses in healthcare. Not everybody has access to affordable healthcare; not everybody can afford to stay at home.
The pandemic has laid bare fundamental flaws in the way we have organized our economy in our unrelenting efforts to strive for economic growth. The speed and severity of the economic impact on (global) enterprises and value chains are significant. The supply side restrictions and the fallout of demand demonstrate the absence of buffers and a lack of resilience in big parts of our economy.
The recovery from the corona crisis is not simply a question of putting the 'old' economy back on its feet. The reset we call for, addresses the root causes and [proposes] three key building blocks:
redefine; working out what matters most;
revalue the way we live; mixed economy and public values;
redesign our economy; open, circular and diverse markets.
This health crisis, rooted in how we, as humans relate to nature, has translated very quickly into an economic and social crisis. And, given the policy reactions so far, it will also transform into a debt crisis. Moreover, the crisis [..] demonstrates a fundamental lack of resilience in our ecological, social and economic systems.
Redefine
We have known for a long time that human progress cannot be reduced to annual GDP growth. Declining ecosystems are a threat to our wealth. We first have to redefine what matters most. It is time the concept of wellbeing became the foundation of government policies and business investments
And as we have seen in the past decades, economic growth without adequate levels of equality ends up excluding people from basic needs, human dignity and resilience. People, planet and prosperity should therefore be the central values upon which government policy rests and business investment decisions are judged. Economic growth must make way for wellbeing.
Redefining how we think about progress in a market economy is essential to broaden policy and corporate agendas so that they encompass all vital aspects of well being.
We suggest the following combined alternative for GDP, based on:
The framework of ecological boundaries as the hard, non-negotiable boundaries for economic activities. The easiest one to start with is the carbon footprint (climate change). The other eight planetary boundaries (biodiversity loss, biogeochemical, ocean acidification, land use, freshwater, ozone depletion, atmospheric aerosols) [..] can be made concrete for countries or companies and local or regional scale (Steffen et al., 2015)
The achievements of United Nations Sustainable Development Goals (SDGs) as an indicator for wellbeing of a country. This is the global strategy for well being in 2030. The aim should be to try to optimize SDGs, keeping an eye on the inherent trade-offs, where, again, ecological boundaries must be respected.
Gross Domestic Product (GDP) can still be used as an important indicator for production aligned with the other goals. In the same spirit, profits and financial accounting frameworks for companies will and should be used, supplemented with other frameworks.
At both country and company level, this combined set of indicators will help policy makers to find the balance between ecological boundaries and social foundation. A holistic view on wellbeing does more justice to the inherent complexity of the interaction between the ecological, social and economic dimensions of sustainability.
Revalue
Public policy and the economic activities of companies should reflect the common shared values in each society. Revalue how governments and markets interact. Governments and institutions need to support social cohesion not just market transactions.
Redesign
The notions of well being, a values-based economy and public institutions and investments are building blocks for a redesign of the economic framework. We have to redesign our economic system: to make it more resilient, with higher financial buffers, diverse sourcing and more local and circular production chains. We need business to be more resilient and business models to be more diverse.
The general framework of redefine, revalue and redesign provides the right context for concrete measures that work towards a resilient, sustainable and inclusive economy. This is truly a collaborative effort by governments, businesses and communities. This is a defining moment for a reset. If we make the right choices, our economy can become more resilient, we can create better prospects for a lot of people around the globe and in the end build an economy that is also sustainable in the long term. The direction we choose over the coming ten years will define our future. If we make the right choices, future generations will also enjoy their lives.
This interesting text above is from a paper, written by Triodos Bank Netherlands, called: 'Reset the Economy, an agenda for a resilient and inclusive recovery from the global corona crisis' 28 May 2020. It can be read and downloaded for free from internet.
G.B. van der Leest, The Daily Herald, June 2nd 2020
-----------------
Witch Hunt
During Brison's short address he attacked high paying civil servants that are not working along with their Minister. Brison (chair of parliament) called out the health Inspector General Dr. Earl Best whom he said is only giving negative advice but no solutions. He said that based on the advice the Inspector General wants the island to remain closed. The chair of parliament said one of the things that should be done is to withhold the salaries of these highly paid civil servants,[..]. The chair of parliament also asked that the evaluation of Dr. Best for the past 5 years be turned over to parliament.
https://smn-news.com/st-maarten-st-martin-news/35068-st-maarten-can-never-prepare-enough-for-covid-19-country-must-fend-for-itself-before-taps-run-dry.html ,June 30th 2020
Reading this it seems that some might need a refreshment course on constitutional matters. Parliament interfering with the payment and functioning of individual civil servants.......!!??
____________
Lossen staatkundige veranderingen de problemen op?
Telkens als de Antillen [..] in problemen verkeren zwelt weer de roep aan om veranderingen in de staatkundige verhoudingen tussen het Europese en het Caribische deel van het koninkrijk. Maar constitutionele veranderingen zullen ook nu weer geen oplossing bieden voor de onderliggende problemen die aan beide kanten van de oceaan bestaan.
De reden daarvoor is simpel: eerdere staatkundige hervormingen hebben ook geen verbetering opgeleverd. Het probleem is niet gelegen in staatsrecht, maar in een gebrek aan eerlijkheid. Over en weer.
Het gaat er nu om dat politici en ambtenaren aan beide kanten van de oceaan eindelijk, na zoveel crisismomenten en staatkundige hervormingen, werk maken van het elimineren van een paar al tijden bestaande systeemfouten en erkennen dat aalmoezen en staatkundige discussies, de onderliggende kwesties in het verleden nog nooit hebben opgelost.
Er is ook aan onze, Caribische kant van het koninkrijk nog veel te doen. Ook op onze eilanden valt, net als in tientallen Europees Nederlandse gemeenten, provincies en rijksdiensten, nog veel werk te verzetten als het gaat om zaken als goed bestuur, ordentelijke begrotingen en rekeningen, inning van belastingen en het stellen van de juiste prioriteiten.
https://www.knipselkrant-curacao.com/opinie-in-ons-koninkrijk-ontbreekt-het-aan-eerlijkheid/#more-292495
30 Juni 2020
----------------
Wegkijken
[..] wij kunnen ons druk blijven maken over een minister die verkeerd in elkaar steekt, feit is echter dat zij haar twijfelachtige praktijken alleen maar kan uitoefenen omdat haar (politieke) omgeving dat zomaar toe laat en, gewild of ongewild, haar de ruimte daartoe biedt. Het niet optreden en/of stilzwijgen door instituten en personen die net als haar over een mate van
staatsmacht beschikken maakt dat de schuld voor alle door haar begane oneigenlijkheden ook bij deze personen en instituten moet worden gelegd. De lankmoedige-, beduchte- en passieve wegkijk houding die al deze personen en instituten innemen schept ruimte voor [..] tirannie en maakt hun dus daar mede verantwoordelijk voor, dat is de tirannie van de onmacht. Mevrouw de minister kunnen wij niet veranderen, het is de aard van het beestje, zo zit zij nu eenmaal in elkaar. Triest is echter om de inertie te constateren die haar omgeving ten toon spreidt wanneer zij wederom haar oneigenlijke omgang met de maatschappij afdwingt.
In een situatie waarin leiderschap ontbreekt, er geen collectieve ministeriële verantwoordelijkheid wordt erkend en een ieder beducht is voor mevrouw 's hoon en toorn kan deze 'handige' minister haar gang maar gaan, grijpt ze haar kansen en gijzelt zij het hele politieke platform om haar agenda's te realiseren. Zo protesteert niemand wanneer zij [als (groot) aandeelhouder van een bepaald bedrijf] openlijk afstand neemt van het hele gebeuren rondom dat bedrijf waarmee zij zich dan tegelijkertijd ook distantieert van de oninbare miljoenenschuld die dit bedrijf heeft veroorzaakt .
Niemand maakt zich ook druk wanneer zij als statenlid schaamteloos mee stemt in de Staten ten faveure van een projekt van
haar echtgenoot. Tevens staat niemand uit de regeringskringen op om het voor de Gouverneur op te nemen wanneer deze minister (in haar hoedanigheid van minister, mind you!) openlijk verkondigt dat dit instituut niet meer van deze tijd is, een uiting die zij deed puur omdat ook deze Gouverneur weigert naar haar pijpen te dansen.
Ook zou men verwachten dat, nadat ik middels mijn rechtszaak tegen FCW-legal het oneigenlijke declaratiegedrag van dit advocatenkantoor in verband met aan de overheid verleende retainer diensten, had blootgelegd, er op zijn minst een onderzoek zou komen ter her-evaluering van deze contracten met dit advocatenkantoor. Niets van dat alles wat uitermate vreemd is voor een regering die vanwege de precaire financiële situatie al het mogelijke zou moeten ondernemen om kosten te drukken. Of dit onderzoek is nagelaten vanwege de omstandigheid dat het hier gaat om een advocatenkantoor waarvan de schoonbroer van de minister partner in is, laat naar zich gissen.
Wanneer BTP-directeur Franklin Sluis de maatschappelijke verontwaardiging over zijn extreme hoge salaris goed probeert te praten door te zeggen dat hij daarover niet heeft onderhandeld maar dat het hem is aangeboden, komt het bij geen enkele overheidsinstantie nochtans op om die wereldvreemde bewering te onderzoeken. Indien de heer Sluis daar niet om heeft gevraagd hoe komt het dan dat hem een salaris is aangeboden dat het dubbele bedraagt van het salaris van zijn voorganger? Komt dat zomaar uit de lucht vallen?
Wie heeft dat bepaald en goedgevonden en waarom? Mevr. de minister was toentertijd minister van VVRP wordt een onderzoek vermeden omdat alsdan niet ontkomen kan worden aan haar rol in het besluitvormingsproces?
Mevr. de minister is een symptoom van een regering bestaande uit bewindvoerders die niet in staat zijn om als collectiviteit op te treden waardoor zij onder meer excessen van collega's dulden zolang men daar zelf niet voor aangesproken meent te kunnen worden. Sowieso dus geen collectief bestuur waardoor het kabinet geen specifiek politiek signatuur draagt en dus ook niet in staat is om bestuurlijke richting te geven. Het enige wat hen verbindt is de vrees voor het uiteenvallen van het kabinet. Frenemies dus die elk bezig zijn met hun eigen agenda's en elkaar daar ook de ruimte toe gunnen. En dit alles onder het voorzitterschap van een premier die zijn tent duidelijk niet in de hand heeft.
[..] het grootste kwaad en de grootste bedreiging van onze rechtsstaat niet zozeer zit in haar pogingen om haar doelen te bewerkstelligen maar veel eerder in haar inerte omgeving die de mogelijkheden daartoe open laat en haar dus de gelegenheid daartoe biedt. Dat is verontrustend.
Curacao gaat het niet redden met een dergelijke weeke politieke gesteldheid. Dit wegkijken begint onderhand een gevaar op te leveren voor onze rechtsstaat. Weinig realiseren wij ons dat het profiel van onze regering niet veel verschilt met dat van de Venezolaanse regering waar ook iedereen wegkijkt en elkaar niet durft aan te spreken. Het enige verschil met onze zuiderburen is de graad van kwaadaardigheid, waar wij minister de ruimte geven om familieleden en vrienden te bevoordelen geven de
bewindvoerders in Venezuela elkaar de ruimte voor het bedrijven van keiharde criminaliteit (drugshandel, goudsmokkel en witwaspraktijken). Zover is het bij ons echter (nog) niet.
(C) George Lichtveld, opinie | De Tirannie van de onmacht, peplaatst op 12 juni 2020, https://www.knipselkrant-curacao.com/opinie-de-tirannie-van-de-onmacht door redactie knipselkrant curacao.
Ik heb een paar namen uit het artikel weggelaten, want het gaat me niet om de personen maar om de gewoonte van het 'wegkijken'. Dit verhaal gaat over Curacao en eigenlijk niet alleen over de politiek (de machthebbers), waar 'wegkijken' plaats lijkt te vinden. Dit is een gebruik dat in meerdere lagen van de maatschappij tegen wordt gekomen. Niet alleen in Curacao trouwens. Ik weet iets akeligs van jou en jij weet iets akeligs van mij en als we nu gewoon een beetje vriendelijk blijven tegen elkaar blijft dat gewoon 'onder ons'. Een gebruik waarin sommige personen daarmee haast onaantastbaar lijken. Iets wat niet eenvoudig zomaar kan worden veranderd.
------------------------
Disappointing awakening
"I decided to get into politics to serve. To help those that need it most, to help those without a voice and to help those that cannot help themselves. After just a few short months I am starting to think that there will be NO freedom and NO ownership, NO help. Unfortunately, I have been willfully set aside and rendered useless and not able to do the very things that we spoke about so convincingly before elections. [..]
As a Party we have barely started our journey, yet we have already drifted away from our platform, the party principles and our commitment to being a party of inclusion. The absence of meetings, communication, and lack of togetherness goes to show that we have not grown from past experiences. There is a void amongst us as and our leadership continues to be ever distant and non-inclusive. Constant reminders of who the leader is, does not make anyone a leader. True leadership comes with qualities of camaraderie, inclusion, and a genuine interest in his/her fellowship.
I worked very hard during the campaign and was a team player for just about everything. What I have come to realize though is that there is no TEAM. It is one individual cause, one individual direction, one individual agenda. You cannot serve the Public interest like this.
We have consistently been misdirecting our focus, never accepting our own responsibility in the matters that affect our Island most and it seems to be easier to defer the blame elsewhere. We are not even capable of responding to Party Members who wish to have consultations and have constructive debate on a subject matter. How can we call ourselves a party of inclusion?
[..] "
(C) Cor Merx, St. Maarten, June 10 2020, candidate during the elections early 2020, about his recent experiences in the biggest political party of SXM.
It must be said that earlier on I have mentioned the pretty poor developed maturity of political parties on SXM. For example is it until recently not easy to spot a party program making clear where parties are standing for. There is still some way to go.
_________________
The rich and the poor brother
Imagine that you have studied hard and as result enjoy a good salary. With this income you bought a humble cunucu house and a fuel-efficient car and even have money to spare to do nice things or to save to hold you over when times are tough.
And imagine that your younger brother who just turned 18, got a job and with his first pay-check immediately buys a Hummer which uses 100 florin fuel in three days. You don't think that this is wise, but your brother is an "adult" and does not tolerate your meddling in his affairs. A little later he buys a two-story home with a big garden and a pool. He employs a cleaning lady and a gardener. He sends his two kids to the International School. That brings him to the end of his tether financially, a large part of his pay-check is practically completely spent within 5 days covering all these costs. He has just enough left to buy food. Your advice to lower his spending by getting a cheaper car and house, have less staff and a less expensive school is met with outrage: that never!
In the meantime, the Hummer has a serious technical defect and requires a substantial revision. His house requires substantial maintenance, the sewage broke down and his staff want a raise. Together with the school fees for his kids this means that he is in financial dire straits.
Imagine that your brother in his predicament comes to ask you for help. What do you do? Would you help him with your hard-earned savings because he is your little brother? I don't think so! Who helps someone financially who maintains a lifestyle which everybody knows cannot be carried? So, you refuse to help as long as your brother does not choose for a more humble lifestyle.
Your dear brother then goes to the bank and succeeds to get new personal loans. But with the additional interest payments he sinks deeper in debt. The debt burden eventually becomes so heavy that even more desperate this time he comes to ask your help. You want to, but again under your "old" conditions. And again, he refuses, as result of which the situation escalates further.
Until there is a crisis and he loses his job and his income. He cannot pay the interest and repayment of the debt to the banks and is not able to get a new loan. In total desperation he knocks on your door again for help. What do you do? Of course, you help him as brother, but you too are affected by the crisis and have to get by with less income. So, you help him under but the sole condition, that he finally and immediately executes all the advice that you repeated year after year without delay. And indeed, your brother chooses to take it, not leave it.

And imagine now that you are the Netherlands and that your headstrong brother is Aruba. And imagine that you have warned your brother all those years and given advice which also other friends of his have done. For Aruba these friends were the Council of Advice, the Central Audit Service, the Algemene Rekenkamer, the Central Bank, de Comision Financiero, the National Commission on Public Finance, the International Monetary Fund, etc. All that good and expensive (!) advice which structurally has been relegated to the trash bin by our successive governments. The result of this is shown amongst others by the totally derailed government finances, failing social services, education and the fight against crime, infrastructure and severe damage to the environment.
Then it is not too hard to imagine that just as the little brother has to take big steps to "survive", Aruba also has to take necessary steps and lower its costs drastically if it wants to be considered for financial assistance to survive. It is then inconceivable that groups within the community, however important, can get a rain check for these adjustments.
In the end, many in Aruba carry a co-responsibility for the current financial-economic situation, even if this was by opportunistic voting behavior and the chase for preferential treatment. And the complaint of politicians that our "autonomy" is violated by the severe conditions, should not be aimed at the big brother, but to the small "adult" brother who never even wanted to listen to advice of his best friends.
(C) Armand Hessels; connected to the foundation Deugdelijk Bestuur Aruba, May 29 2020, The Daily Herald.
_________________
Toekomst CAS eilanden (Curacao, Aruba, St. Maarten)
"I cannot arrive at any other conclusion than that the countries have not succeeded in implementing reforms. There are all sorts of reasons, explanations for it. It is a long, disconcerting list of unkept promises, unkept agreements and advices that were put aside. It is a list of things that were shelved as a result of political unwillingness or ignorance," said Knops.
He repeated his words of earlier this week that, in his opinion, the countries were unable to shoulder their own autonomy. "That is a tough conclusion, but I cannot come to any other. The indications were already long-time on the table before the corona crisis. What is autonomy when you totally depend on the Netherlands for support because your basic government finances are not in order?"
He pointed out that national debts have been rising to untenable proportions and economic prosperity of the islands has barely benefited the people. "The people who can carry the burden don't, and shift it to the poorest. That becomes visible in times of crises like this one," he said, calling it "a shame" that the Netherlands now has to provide thousands of food parcels for people to survive on the islands.
"In my opinion, politics and governing is about making choices in the best interest of your people, also in the long term. However, we have to conclude that in the past years there have been too many elected officials who apparently had another agenda that was not focused on the well-being of their people," said Knops.
"When you profit from people who do the cheap labour, they end up paying the highest price during a crisis. That is an issue that deserves a political discussion in an autonomous country. That is not solved in a day, but the discussion needs to take place." He referred to the current crisis as "one big wake-up call."
(C) https://www.thedailyherald.sx/islands/it-s-no-longer-business-as-usual-says-knops, published May 22nd 2020
------------------------
Minister Knops is […] eindelijk tot de conclusie gekomen dat de zg autonome tot het Koninkrijk der Nederlanden behorende Caribische landjes, hun autonomie niet kunnen dragen.
Een constatering, waarvan u en ik wenkbrauwfronsend zouden zeggen: geen nieuws; op zijn hoogst een "déjà vu".
Democratie is de beste staatsvorm. Zij heeft echter één verborgen gebrek. Zij functioneert minder optimaal in een gemeenschap waarin het opleidingsniveau […] laag is. Het is dan ook geen wonder dat de democratie bij ons steeds slechter lijkt te functioneren. Veel kiezers zijn bereid hun stem voor minder dan een bord linzensoep aan de politicus met het leukste verhaal en de aantrekkelijkste beloften te verkopen. Daar komt nog bij dat er weinig capabele personen zijn, die zich in de politieke arena durven wagen. Dit vanwege de gerechtvaardigde vrees een "ontgroening" te moeten ondergaan die in één bepaald opzicht verder gaat dan deze bij de studentenverenigingen nog steeds bestaande opmerkelijke traditie.
Zelfs de enkeling die zich op het bezit van brandschone handen kan beroepen, zal van wege die noodzakelijke ontgroening, aarzelen de politieke arena te betreden. Tot die ontgroening behoort nl. een niet formele door de politieke oudgedienden ondernomen onderzoek van de stamboom van de waaghalzerige nieuweling. Ze zullen in hun zoektocht steevast in een van de verre vertakkingen van die boom een ongeletterde naïeve oma tegenkomen die honderd jaar geleden een paar stuivers uit de portemonnee van haar werkgeefster heeft "geleend" en daarvoor streng werd bestraft.
Of verder zoekend, een snaakse "betovergrootopa" ontdekken die 125 jaar geleden een kip uit de tuin van een shon heeft gejat en daarvoor in het gevang is beland. Die verre voorzaten worden de nieuwe durfal constant met de nodige afkeuring en zelfs walging voorgehouden. En niet iedereen heeft er zin in deze moderne variant van de bij de studentenverenigingen bestaande ontgroeningstraditie te ondergaan.
Het hoeft geen betoog dat deze "traditie" een negatieve selectie tot gevolg heeft die uitsluitend tot voordeel strekt van de geharde oudgedienden; politici die eelt op ziel en huid hebben gekregen en zelfs het onderhuids blozen hebben afgeleerd.
Onnodig te stellen dat de instroom van hoog opgeleide en capabele politici in spe door deze tot onze folklore behorende politieke traditie, aanzienlijk wordt beperkt. Het zijn dan ook vooral de gladde, in het bespelen van het kiezersvolk gepokte en gemazelde oude rotten in het politieke vak, die in het politieke koor van ons eilandje het hoogste lied blijven zingen.
Knops beschikt via zijn voorgangers al meer dan 65 jaar over de wetenschap dat de politici van deze eilandjes met een bevolking van 50.000.00 – 150.000.00 inwoners, niet in staat zijn voldoende kennis en kunde op te brengen om hun eilandje als onafhankelijk land te bestieren. Knops en zijn voorgangers weten als geen ander dat het zelfs de meest goedwillende […] politicus aan de benodigde capaciteit en logistiek ontbreekt om deze eilandjes met een eigen luchthaven; een eigen zeehaven; een eigen meteorologische dienst, een eigen douane en ga zo maar door als autonoom (lees onafhankelijk) land te leiden.
Dr. Jose 'Joe' M. Eustatia (1938) studeerde medicijnen aan de Universiteit van Nijmegen. Hij promoveerde in 1971 tot doctor in de geneeskunde. In 1972 keerde hij als specialist in de laboratoriumgeneeskunde (hoofdvak Bacteriologie) naar Curacao alwaar hij tot 1998 als arts-bacterioloog en hoofd Landslaboratorium werkzaam is geweest.
(c) https://www.knipselkrant-curacao.com/column-zambesi-revisited-minister-knops-ontdekt-het-nieuwe-normaal/#more-289003
May 22nd 2020
--------------------
Politiek, een 'universele' (?) gedachte
"Alles wat gebeurt buiten datgene waarvan we denken dat we het direct, door eigen kracht kunnen veranderen of houden zoals het is, alles wat we 'ploitiek' noemen, beschouwen we zoals het weer: het lot dat zich bij ons altijd voltrekt in een gematigde vorm. Het is een ingewikkelde zaak. Kunnen we niet zonder politici? Dat bewijs zal nooit geleverd worden. Zouden we betere politici kunnen hebben? Het bewijs daarvoor zal ook nooit worden geleverd. De politiek zoals we nu hebben kan blijven bestaan doordat iedereen met halve begrijpelijkheid, halve beslissingen, een halve kool en een halve citroen, een half bestaan tevreden is en omdat niemand meer beter weet. Als het erop aankomt iets te ondernemen tegen een bestaan waarmee ze maar half tevreden zijn, worden de mensen overweldigd door hun luiheid en lafheid. Als ze moed genoeg hebben verzameld, kunnen ze niet uit hun stoel overeind komen, en als ze dat wel lukt is hun moed verdwenen. per slot van rekening is het moeilijk iets te verzinnen dat praktischer en gezonder is dan in redelijke welstand ongestoord naar het einde sukkelen. Ik weet niet of er veel mensen zijn die dat hun levensdoel noemen, maar het is wel het algemene doel van de dag. Je kunt het humeur van een weldenkend mens niet sneller bederven dan door hem te vragen iets te durven. Daarom vragen we het elkaar ook niet. Dat is het geheim van de politici: we staan ze graag toe, van alles en nog wat van plan te zijn en dat in hun rare taal bekend te maken zolang we ons er maar niet aan hoeven storen en zolang ze ons in onze halfheid met rust laten. Daarom worden ze gedoogd. Niet om hun schitterende denkbeelden en hun hoogstaande familieleven maar omdat ze onze bijval willen voor hun werk dat ons niets kan schelen, om ons in ruil daarvoor in het genot van onze slome gemakken te laten. daardoor zijn we verwend geraakt; ouwe snotneuzen met te weinig gedachten en teveel zakgeld."
Men zou kunnen zeggen dat dit een rake, zij het een beetje cynische of weinig genuanceerde observatie is. Typisch Caribisch. Maar dat laatste is niet waar zoals uit de brondvermedling kan worden geconcludeerd. Het is zeker wel van (zeker gedeeeltelijk) toepassing maar het gaat over een observatie in het Nederland van rond 1976.
(C) H.J.A. Hofland, Man van zijn Eeuw, uitgave De Bezige Bij, 1978, p 112/113.
Geplaatst Mei 2020
--------------------------
Toekomst
In deze blog hieronder drie verschillende artikelen (vanuit Aruba, Curacao en St. Maarten) die in de periode van 1 week zijn verschenen in verschillende nieuwsmedia hier. Ze geven allen een mening over het zelfstandig (staatkundig/bestuurlijk) voortbestaan van de eilanden. De vragen die opkomen worden al veel langer door sommigen gesteld. Kunnen deze eilanden met hun kleine bevolkingsomvang een aparte autonome status hebben? In dat verband is een antwoord op onderstaande vragen van belang.
Kan de economie van deze eilanden voldoende inkomsten genereren om alle uitgaven die samenhangen met het zijn van een autonome staat in deze wereld af te dekken? En niet alleen dat.
Is het mogelijk om (overheids)organisaties te laten bestaan die voldoende kennis, kunde en ervaring hebben om efficient en daadkrachtig te sturen indien nodig?
En als dat het geval is worden die organisaties in voldoende mate aangestuurd door een regering/parlement?
In goede tijden lijkt er geen vuiltje aan de lucht. De eilanden dobberen wat rond in de Caribische zee en we leven van dag tot dag, enjoying life and being happy. Maar hoe gaat het nu, na de cat. 5 orkaan Irma September 2017 en het Coronovirus?
Helaas, nu wordt duidelijk dat een aantal antwoorden op bovenstaande vragen 'nee' lijkt te zijn. Don't get me wrong, er zijn echt mensen die echt hartsikke hun best doen, maar het lijken er structureel bezien te weinig. De vraag is ook of de fundamentals voor autonome landen voor St. Maarten (en Curacao en Aruba) wel goed genoeg zijn.
Ik probeer altijd in alles een kans te zien om stappen voorwaarts te maken; een uitdaging om verbeteringen of veranderingen in gan te zetten. Maar deze keer, nu met dit Corona virus twijfel ik voor het eerst. Om het land draaiende te houden (lopende verplichtingen,maar ook de koppeling van de antilliaanse gulden aan de dollar) zijn zelfs veel meer financiele investeringen nodig dan we normal al doen, en dat terwijl aan de inkomstenkant er vrijwel niks binnenkomt en de komende periode ook echt niet veel meer zal binnenkomen (toeristen wachten totdat de zaak meer 'in control zal zijn' en dat zal pas zijn Nadat een vaccine beschikbaar is). Veel van deze uitgaven moeten gedaan worden om mensen te helpen of de koppeling met de dollar in stand te houden, dan kan je zonder grote gevolgen niet op bezuinigen. Kortom; de schulden zullen enorm gaan oplopen. Met name omdat het waarschijnlijk niet iets zal zijn van enkele maanden. De vraag is dan wat die enorme schuldenberg gaat betekenen voor de toekomst van dit land. Kunnen we in redelijkheid zo voortgaan? Ik kan - gebaseerd op mijn observaties hier in de omgeving - wel zeggen dat een andere staatkundige constitutie (onderdeel van een antillliaanse provincie of een bijzondere gemeente van Nederland) niet snel iets zal oplossen. ik zie dat aan de situatie op St. Eustatius of - in mindere mate - Bonaire - die zelfs met meer directe jarenlange bemoeienis van Nederland bepaald niet optimaal is.
Helaas, ik weet de oplossing op dit moment ook niet. Misschien komt dat inzicht later nog. Tot die tijd is het wel zeker dat we nog even in deze Caribische zee blijven drijven, dus geen paniek. Bovendien heb ik zwemdiploma A, B en C ! :)
29 April 2020
________________
Column Den Cayente | Iemand moet het doen
Overmorgen worden mogelijk aanpassingen van de COVID-19 (Corona-virus) maatregelen aangekondigd, maar de vraag blijft echter hoe snel we dat eigenlijk zouden moeten doen. Wanneer het eenmaal zover is zal er nauwelijks sprake zijn van feest. Eerder van puinruimen. Het is ons tot nu toe bespaard gebleven dat dokters hier, net als in Italië, op een gegeven moment zouden moeten beslissen over wie wel en wie niet wordt geholpen.
Dat neemt echter niet weg dat er dankzij het coronavirus ook op Aruba traumatische beslissingen genomen zullen worden op zeer korte termijn. Vriend en vijand heeft ongetwijfeld met dit kabinet te doen. Want feitelijk alles zal of helemaal kapot zijn of zodanig op zijn gat liggen dat hulp van buitenaf nodig is om het weer op gang te krijgen. En iemand moet de echt onpopulaire beslissingen nemen en de knopen keihard doorhakken, wat de premier in de loondiscussie met de vakbonden deze week ook uiteindelijk heeft gedaan.

Daar zal het lang niet bij blijven en niet alleen de regering zal harde noten moeten kraken. Zo lijkt het erop dat het toerisme zoals wij het tot nu toe hebben gekend de nek om is gedraaid en feitelijk opnieuw uitgevonden zal moeten worden. Hier naartoe reizen wordt al te duur en wie wel een ticket zou kunnen betalen zal waarschijnlijk liever voor een écht luxe oord kiezen. Flamingo Island zal dan bij lange na niet genoeg zijn.
Feit is dat we lang geleden hebben gekozen voor massatoerisme, omdat het een makkelijkere optie was dan het creëren van een kleinschaliger en exclusiever product. Nu moeten we het doen met de grote hotels langs de strip, met al die kamers naast elkaar op al die verdiepingen, met casino's, restaurants en natuurlijk stranden waar iedereen lekker hutje mutje op elkaar zit. Die zullen nooit en te nimmer 100 procent besmettings-proof zijn, net als ons cruisetoerisme, mocht dat überhaupt deze economische holocaust overleven.
Lege topvastgoed en een lege haven dus.

Hoe gaan ATA, Ahata, de regering en alle stakeholders dat in godsnaam oplossen? De raffinaderij krijgen we eindelijk weer in handen, maar intussen is wereldwijd de hele olie-industrie volledig in elkaar geklapt en het zou weleens jaren kunnen duren voor de prijs van een vat olie weer op een acceptabel niveau komt. Dus ook deze pilaar is door een sloophamer geveld.
We zullen onszelf als eiland opnieuw moeten uitvinden, met nieuwe economische modellen en dat proces gaat zwaar en pijnlijk zijn, ondanks dat velen van ons nu vooral unieke kansen zien om een waslijst aan zaken recht te trekken. Verworvenheden die we inmiddels generaties lang als vanzelfsprekend hebben gezien, zoals onze algemene zorgverzekering, onze pensioenen, de talloze perks binnen de ambtenarij, maar ook de luxestatus van politici en kader, zullen ingrijpend worden aangepast. Daar is geen ontkomen aan.

Het politieke paradijs waar Hessels jaren geleden al over schreef zal plaats moeten maken voor een sobere machinekamer waar het zonlicht lange tijd niet zal kunnen doordringen. Geen extra bestedingsruimte, geen prestigeprojecten zoals bruggen en windmolens, geen gunsten en baantjes meer om als Sinterklaas rond te strooien tijdens de verkiezingscampagne.
Alleen maar snijden, slopen en eindeloos uitleggen aan een murw geslagen, hongerige en boze bevolking waar zelfs carnaval van is afgepakt in de nieuwe anderhalve meter-realiteit.
En verder alleen maar knarsetandend meegaan met de eisen van degenen die ons geld toeschuiven. Geen enkele traditionele politicus die zich vrijwillig daaraan zou wagen en ik kan me voorstellen dat sommigen stiekem – of niet eens zo stiekem – hopen op een 'tragische' breuk in het kabinet en de komst van een crisis/zakenkabinet dat zonder pardon of omzien de echt pijnlijke beslissingen kan maken in plaats van hen. Houden zij hun handen schoon en kunnen ze terug naar politiek spelen nadat het puin is geruimd door een ander.

Zelf zou ik daar niet eens zo kwaad om worden, zolang die beslissingen ook echt worden gemaakt door iemand. Maar ik weet echt niet wie nou in zo'n kabinet plaats zou moeten nemen mocht dat überhaupt aan de orde komen en wat ik zie is dat in ieder geval een aantal mensen die nu in Cocolishi zitten er gewoon nog altijd elke dag zijn en echte oplossingen proberen te verzinnen, hun verantwoordelijkheid proberen te nemen, proberen te leren van de omstandigheden en lijken te willen groeien.
En ook harde beslissingen durven te nemen waar iedereen wel iets op aan te merken gaat hebben, zoals in de afgelopen week. Zal Aruba voor de verandering eindelijk eens een keer niet kiezen voor de weg van de minste weerstand en de makkelijke optie? De tijd zal het leren.

Bron: Den Cayente, geplaatst op 26 april 2020 door redactie knipselkrant curacao
Column Arien Rasmijn
_____________________
Failed country status

1) Parliamentarians in meeting of April 22 said things like: … being sick and tired of us (St. Maarten) having to run to Holland every time (there is a need) to beg.
2) Alternatives of go-to private investors who might be ready, willing and able to bail out St. Maarten were offered by name. But what was not mentioned was: at what price to the people?
When it comes to looking for money to get us out of the mess we are in, we all know there is no such thing as "a Free lunch", so even if under the present 10/10/10 rules we could go the route of private investors, at what cost financially and, more importantly, at what cost to our democracy will that be? Will we be selling our Government to these investors named by the Parliamentarian on the floor of Parliament? What would those investors consider an acceptable return on investment?
3) The President of Parliament suggests (demands) that the CBCS [Central Bank of Curaçao and St. Maarten – Ed.] "be called to order", issue a license for a to-be-established National Bank of St. Maarten, fund it by repatriating some or all of St. Maarten's share of the CBCS' money abroad, and cut the umbilical financial cord with Curaçao.
4) Economist Arjen Alberts on April 22, 2020, explained "What can the CBCS do for us" in layman's terms (he thinks possibly a band-aid for up to 6 months, after which financial disaster).
These 4 points I use to preface the following that I wrote on April 9 last, while pondering the pickle we are in:
Food for thought: What if, as the Corona virus pandemic hopefully starts getting under control, we get another Cat 5 (or more) hurricane this September? Who do we turn to? The Kingdom Gov't again?
My take: After almost 10 years of trying, circumstances have proven that St. Maarten on so many levels cannot sustain itself as a "country".
We lack self discipline.
We lack cohesion.
We lack the ability to raise enough taxes to afford to run an efficient government organization under normal circumstances.
We have a government apparatus that is too expensive for the quality and quantity of services available to the population.
We have government-owned companies that pay better than Fortune 500 companies.
We lack enough qualified human resources to properly and efficiently serve our population.
We lack mutual trust between consecutive governments and the population.
With 9 governments in 10 years, our elected and appointed officials (including me) have proven that they collectively lack enough maturity, knowledge, and often integrity to properly manage the affairs of the people.
On top of all of that, Hurricane Irma and within 2½ years now this COVID-19 pandemic have proven without a shadow of doubt that because of a myriad of reasons, we are financially, socially and economically unable to sustain the illusive dream of being an autonomous "country".
By virtue of the size in numbers of our population and our total dependency on a single (now proven very fickle) pillar of economic sustenance (tourism), we seem to be destined to be an integral part of a larger community to which we will have to contribute in "good" times so that we can blindly and unconditionally depend on it in "bad" times (read: disasters, both natural as well as man-made).
As far as I am concerned it is time to admit: This "country status" experiment has failed on St. Maarten for, amongst others, all the reasons mentioned here above.
Time for a change of direction.
Time for a new referendum!

Michael J. Ferrier (former Minister of Finance SXM 2016/2017)
(C) The Daily Herald, St. Maarten, April 24 2020, letter to the editor
-------------------
Opinie | Ronddobberen of vasteland bereiken met referendum?
Vooropgesteld dient te worden dat ik enorm van Curaçao hou en liefst nooit meer naar Nederland zou willen terug keren. En wie wil er nu niet op Curaçao wonen? Er is hier volop zon, zee, ruimte om te wonen en te sporten en een gemêleerde bevolking die rustig met elkaar samenleeft.
Curaçao heeft een trots volk en juist omdat de liefde voor Curaçao zo groot is, heb ik willen aanknopen bij het lezenswaardig artikel 'Hoog tijd om het Statuut af te schaffen' van de heer Aart G. Broek in het Antilliaans Dagblad van afgelopen week.
In dit artikel wordt voorgesteld om het Statuut af te schaffen en van de Nederlandse Grondwet een Koninkrijksgrondwet te maken, hetgeen impliceert om Curaçao één van de zes gemeenten van de provincie Dutch Caribbean te maken.
Ik maak hieronder een globale samenvatting van dit artikel om daarop voort te borduren.
Zoals iedereen wel weet zijn de taken van Nederland jegens Curaçao tot op heden het verstrekken van een paspoort, defensiebeleid, buitenlandse betrekkingen onderhouden, maar er is een toenemende betrokkenheid in bestuurlijk, financieel, justitieel en politioneel opzicht. De betrokkenheid wordt onder andere veroorzaakt door ontoereikende criminaliteitsbestrijding (drugs, gangs), falende handhaving van mensenrechten (Venezolaanse vluchtelingen, slechte gevangenissen), falende milieuproblematiek (Isla-raffinaderij), slechte ambtelijke dienstverlening (waar moeten wij beginnen?), haperende kinderbescherming, onbeheersbare overheidsfinanciën (zie nu juist weer de afgekeurde jaarrekening 2018 van Curaçao met 34 miljoen aan getrouwheidsfouten, 3 miljard aan getrouwheidsonzekerheden, overschrijdingen van meer dan 100 miljoen, 354 miljoen onrechtmatig besteed enz.), grote armoede, etc. etc.
Onweerlegbaar kan gezegd worden dat het de regeringen van Curaçao, hoe goed zij het ook hebben bedoeld en bedoelen, niet lukt om een evenwichtig welzijns- en welvaartsniveau voor de inwoners van Curaçao te creëren. Dit wordt echter niet in de laatste plaats veroorzaakt door het ontbreken van een uitgewerkt transparant stelsel van rechten en plichten van Nederland naar Curaçao en andersom, aldus de heer Broek.
Het Statuut is gebaseerd op gelijkwaardigheid, zelfstandigheid en wederkerigheid en daar schort het met name dan ook al jaren aan, omdat de uitvoering van de zijde van Nederland sterk 'gunsten verlenend' is en door de jaren heen heeft deze 'gunsten verlenende' politiek op Curaçao opgeroepen tot het aannemen van een slachtofferrol, het onttrekken van verantwoordelijkheid en gevoelens van minderwaardigheid.
Het 'gunsten verlenend' beleid is fnuikend geweest voor het onderlinge vertrouwen en roept elke keer barrières voor een samenwerking op. In dit verband wordt ook al jaren geadviseerd, helaas zonder enig gehoor, om een representatieve schakel tussen de beide regeringen te creëren die zowel de Curaçaose als Nederlandse cultuur kent en die aldus de juiste taal beheerst voor een heldere communicatie met de Nederlandse ambtenaren, terwijl je toch zou mogen verwachten dat dat de rol van het Curaçaohuis in Den Haag zou moeten zijn.
Als wij nu naar de laatste 20 jaar tot heden objectief naar het wel en wee van Curaçao kijken, wordt het dan eerlijk gezegd geen tijd dat er een provincie met zes gemeenten komt? Wordt het geen tijd dat er één soort Nederlanderschap komt en geen onderscheid wordt gemaakt tussen Nederlanders en Curaçaoënaars als tweederangsburgers?
Wordt het geen tijd dat er één norm komt voor maatschappelijke voorzieningen als overheidszorg, onderwijs, milieu, openbare financiën enz., zodat er een gelijk westers welzijns- en welvaartsniveau komt en Curaçao als gelijke partner wordt behandeld?
De praktijk heeft de afgelopen jaren toch uitgewezen dat wij het zo niet redden? Voorheen konden wij ons nog enigszins redden met offshore inkomsten, maar die zijn nagenoeg opgedroogd mede door toedoen van Nederland en ons eigen optreden, terwijl Nederland altijd zelf praktisch maling heeft gehad aan buitenlandse kritiek om hun rulingpraktijk en toepassing van hun belastingverdragen te beperken.
Onze samenleving is te ingewikkeld om op efficiënte wijze te besturen, praktisch iedereen kent elkaar, one big family, totdat het ego, powerplay op gezette tijden binnensluipen, dan is de eenheidsgedachte ineens weg. En laten wij nu eerlijk wezen: wij hebben toch ook te veel ambtenaren op een bevolking van 160.000 inwoners en er zijn toch veel te veel mensen die al jaren onder de armoedegrens leven waar een handjevol organisaties zich inzet om deze mensen eten te geven en te kleden, en wij zetten vaak toch ook geen stap te veel. Wij zijn erg passief, behalve wanneer wij kunnen feesten. Dat is enerzijds mooi, vrolijk en gezellig, maar anderzijds ook zo laks.
Een mooi voorbeeld is dat er geen maatregelen worden genomen of bekend worden gemaakt om de vier (semi-)overheidsambtenaren, die gezamenlijk per jaar 3,8 miljoen verdienen aan te pakken, terwijl bij een 'Rhuggenaath-norm' van bijvoorbeeld bruto 250.000 gulden van het verschil in salaris per jaar 380 mensen (familie van vier personen) kunnen leven (ja even, een maand, vliegen de mails en apps met volle verontwaardiging rond het eiland en daarna zijn wij het weer met zijn allen vergeten). Typerend.
Zoals gezegd zijn onze beperkte inkomstenbronnen opgedroogd. De haven heeft kansen voorbij laten gaan en vertoont weinig activiteiten en investeringen, de raffinaderij ligt plat, de (internationale) financiële wereld is onder andere door Nederland volstrekt uitgewoond en de lokale bedrijvigheid is praktisch tot stilstand gekomen en zal hopelijk weer snel een beetje op gang komen. De verwachting bestaat, en dan schat ik het positief in, dat het toerisme pas volgend jaar als niet later mondjesmaat weer op gang komt en dat zal dan bizar zijn qua afstand houden, mondmaskers en massaal vliegen.
Wij komen er zonder 100 procent structurele gelijkwaardige hulp van Nederland niet uit. Wij koersen af op grote werkloosheid, toenemende criminaliteit en een exodus van Curaçaoënaars naar Nederland. Daarnaast komen toekomstige ouderdoms- en pensioenuitkeringen ernstig in gevaar en krijgen wij een slechtere gezondheidszorg, omdat de premies niet meer zijn op te hoesten. En mochten wij er dan economisch/financieel over een aantal jaren met Nederlandse hulp toch uit zijn, dan kunnen wij erop wachten dat wij weer in hetzelfde stramien als de laatste tien jaar vervallen.
Wij moeten concluderen dat Curaçao jammer genoeg geen zelfstandig bestaansrecht meer heeft, maar in deze veranderlijke moeilijke tijden geeft dat toch ook niet. Wij moeten hierover heenstappen. Het verleden achter ons laten. Er zullen machten, instanties zijn die helemaal geen bemoeienis van Nederland willen, die hun eigen beleid willen blijven bepalen, maar wij moeten als volk over deze machten heen stappen en via een snel te houden referendum onderzoeken of de meerderheid van de inwoners Curaçao als een gemeente/provincie van Nederland willen zien, zodat wij als een volk er alleen maar op vooruit zullen gaan.

De auteur, Enrico van der Meij, is partner/fiscalist van een belastingadvieskantoor op Curaçao.
(C) Geplaatst op 23 april 2020 door redactie knipselkrant curacao
------------------------------
Gevolgen van het Corona Virus
Nu seksclubs gesloten zijn en veel mensen thuiszitten, moeten mensen zich thuis vermaken. Dat resulteert in drukte op pornosites: [..] tot bijna 50 procent meer verkeer.
Horecagelegenheden, sauna's, seksclubs en coffeeshops [moeten] dicht. Ook moet waar mogelijk thuis gewerkt worden en moeten sociale contacten worden beperkt. Naarmate mensen meer tijd thuis doorbrengen, hetzij zelfisolerend of thuiswerkend, is het verkeer naar digitale pornoclubs is gestegen. Sinds een site bekend maakte dat mensen gratis gebruik kunnen maken van een premiumabonnement groeide het bezoek meteen met maar liefst 61,3 procent meer bezoek dan normaal. Ook wordt 's middags, voor veel mensen dus tijdens werktijd, opvallend veel naar porno gekeken.
"Wat we zien, is dat in de avonduren - als partners en kinderen op bed liggen - het gebruik van de pornosites enorm toeneemt. Zowel van mannen als vrouwen. Je merkt dat mensen een substituut zoeken voor seksclubs en massagesalons", aldus de directeur van zo'n site.
(c) www.nu.nl, 19 maart 2020
Nee, dit bericht gaat niet over Sint Maarten of enig ander Caribisch eiland, maar gewoon over ……...Nederland !
--------------------
Creatief Parkeren
Wat doe je als je vrachtwagenchauffeur bent en je moet een volle container afleveren, de parkeerplaats is vol en je moet een andere container ergens anders oppikken binnen 15 minuten.
Het resultaat is hier te zien…………:)
Sint Maarten, Union Road, Cole Bay, March 2nd 2020.
-------------------------------
Emigreren kent zo z'n uitdagingen
Vol goede moed ging hij twee maanden geleden op pad. Mijn nieuwe collega. Vanuit Nederland naar Sint Maarten.
Hij kon kiezen om als tijdelijke huisvesting te verblijven in een basic hotel op loopafstand van het kantoor of voor een iets luxer hotel, maar dan op 3 kilometer van kantoor, met twee heuvels en zonder openbaar Vervoer. Zijn voorkeur was de laatste. "Zou je dat nu wel doen" vroeg ik hem nog, want die andere is veel gemakkelijker qua afstand. Maar de nieuwe collega meende dat hij dan wel een taxi zou nemen. Ik vertelde hem nog dat die hier niet heel goedkoop zijn. Toch werd dit zijn keuze.
Elke dat een taxitarief betalen valt echter natuurlijk toch een beetje tegen. En een collega die daar in de buurt woonde en die hem af en toe wel wilde laten meerijden had heel andere werktijden dan de nieuwe collega wenselijk achtte. Toen hem ik hem maar mijn fiets geleend. Maar die heuvels zijn dan toch niet erg fijn. En ook is het niet fijn dat dit jaar het regenseizoen ook echt een regenseizoen is. Toen ik vroeger een scooter hier had had gemiddeld 7 x per jaar een regenpak nodig, maar dit jaar was die 7 x al in de eerste maand!. En hij had geen regenpak of paraplu!
Op zoek naar permanente woonruimte vielen een paar aardige studio appartementen al gauw af, want te klein; "mijn meubels passen er niet in die in de container zitten die hierheen komt", aldus de nieuwe collega. Oeps, dus was een groter appartement nodig. Groter is duurder. Dus in plaats van zo'n 850 - 1000 USD betaal je dan tussen de 1250 en 1500 USD.
De nieuwe collega zag erg uit naar de komst van de zijn zeecontainer, want dan zou hij ook eindelijk het eiland kunnen gaan verkennen met zijn auto die hij uit Nederland gaat importeren, een Citroen. Nu is Citroen is een leuk automerk, maar het klimaat en de wegen hier doen een aanslag op de toestand van de auto's en het merk Citroen is nu eenmaal niet bekend om zijn robuustheid/duurzaamheid. Er gaat nog wel eens wat aan kapot wat onderhoud nodig heeft. En op het nederlandse deel zijn er geen franse auto-onderdelen. Laat staan dat iemand hier iets van de techniek van deze auto's kent. Hopelijk wel op het Franse deel van het eiland.
Na vele dagen vertraging en wat heen en weer bellen zou de zeecontainer nu dan toch eindelijk aankomen. Dat was ook nodig want de nieuwe woning moest worden betrokken en die was gehuurd geheel in lege toestand, omdat alles in de container zat. Collega stond op de kade om het schip welkom te heten na de 3 weken lange zeereis vanuit Rotterdam. Het laden en lossen kon beginnen. Na drie uurtjes takelen was het schip leeg, maar helaas, de container van de collega zat er niet tussen !?
In paniek belde hij naar Rotterdam. "Waar is mijn container!?, Ik heb hem nodig, nu !". "Meneer, het is heel vervelend maar volgens onze administratrie is die container wel degelijk bij ons weg en ingescheept op de boot die nu bij u aan de kade ligt." De kapitein van het schip echter hiled echter vol dat hij de container niet kan vinden en dat hij dus weg is. Wat nu. Zo'n ding kan toch niet zomaar van boord vallen? De havenautoriteiten kalmeerden collega en verzoeken hem naar huis te gaan. Zij zullen de volgende morgen benutten om nog eenmaal de gehele vooraad containers door te lopen. Want het inderdaad nog niet vaak voorgekomen dat containers 'zomaar' verdwijnen.
Collega heeft die nacht niet zo goed geslapen, want hoe moet het nu verder zonder iets in dit verre land, op 900 kilometer van Nederland? De volgende ochtend belt hij op naar het havenkantoor. "Meneer, wij kunnen u mededelen dat wij de container toch hebben gevonden", aldus een vriendelijke mevrouw.
Wat gaat er op zo'n moment door je heen als je dat hoort. Blijdschap, opluchting. Dit land is een prachtig land, maar is niet altijd goed voor je gezondheid. Ik heb collega geadviseerd van tijd tot tijd de bloeddruk bij de dokter te checken. Gewoon…..voor de zekerheid. :)
Februari 2020
------------------------
Role of Parliament

In one week two different stories can be read about in fact the same topic, apparently being an issue on Curacao as well as on St. Maarten. I quote them here below.

"Salomons [director Sint Maarten Housing Development Fund] said [after gotten complaints not showing up when requested by Parliament recently] a private foundation such as SMHDF is not obliged to come to Parliament to answer questions. "Protocol dictates that the foundation's point of contact is with the Minister of VROMI [Public Housing, Spatial Planning, Environment and Infrastructure], with whom the foundation holds scheduled bi-weekly meetings. "According to the Constitution of St. Maarten, Parliament can invite a Minister to be present during a meeting to give certain information. As far as my knowledge of the law extends in this regard, there is no requirement for me – as a private citizen or in my capacity as director of a private entity such as SMHDF – to provide information to Parliament or give account to Parliament regarding my management activities relative to SMHDF or the manner in which SMHDF conducts its activities. "As a good corporate citizen, I am, however, prepared to provide Parliament with a general presentation on the challenges that SMHDF is currently confronted with, as well with a presentation on the challenges SMHDF had to deal with in the past."
© February 8th 2020, The Daily Herald
"Reeds geruime tijd constateer ik dat de meerderheid van het parlement [...] zich zeer protectionistisch en romantisch opstelt ten opzichte van de regering. Velen menen dat men geen kritiek mag of kan uitoefen op de eigen minister of de coalitie. Juist deze denk- en handelwijze ondergraaft de democratie. Men gaat voorbij aan het feit dat positieve kritiek ook dient om de mens scherp te houden, juist voor behoud van de democratie. Elk zich respecterend land moet bestuurd worden op basis van 'checks and balances'. Niemand is volmaakt en alwetend.
[Externe organisaties, hiertoe al dan niet uitgenodigd door het Parlement,] moet[en] niet op de stoel van de regering gaan zitten. Regering en Parlement moeten rekenschap afleggen aan het volk [..} en zoveel mogelijk trachten onzekerheden en speculaties te vermijden. De huidige afstandelijkheid tussen volk en bestuurders creëert een vacuüm, zodoende een vruchtbare bodem voor speculaties en uitingen waar eenieder zijn eigen inhoud aan geeft. Het uitblijven van debatten over cruciale zaken verzwakt het orgaan Parlement en onthoudt het volk van cruciale informatie. Het Parlement moet zich realiseren dat een groot gedeelte van het volk [..] in onzekerheid leeft. Acties van de regering zijn gehuld in een zware sluier van geheimzinnigheid."
Maria Liberia-Peters, Ex-Minister President van de Nederlandse Antillen, Curacao
© Ingezonden 'Let op de democratie', geplaatst op 16 februari 2020 door redactie Knipselkrant Curacao
--------------------
Portugese oorlogschepen rond de kust
Een intrigerend kop van een artikel. Waar gaat dit over? Ik wist niet dat Portugal nog een oorlogsvloot heeft. Interessant, maar wat doen die hier in de Cariben?

Langs de kust van Curaçao zijn weer Portugese oorlogsschepen gesignaleerd. Dat bevestigt Mark Vermeij van Carmabi.
Het vermoeden is dat er veel zijn, want het instituut heeft meerdere meldingen binnengekregen. Volgens Vermeij is dit echter normaal voor de tijd van het jaar. Rond januari/februari zijn er meestal meldingen van deze 'schepen' rond het eiland.
Portugese oorlogsschepen zijn koloniën van poliepen met kleine harpoenen. Gestoken worden door een Portugese oorlogsschip kan pijnlijk zijn. Carmabi tipt om bij een steek de tentakels te verwijderen met een stok, de plek van de steek te behandelen met azijn, zeker 45 minuten te spoelen met warm water (40 graden) en veel vitamine C te nemen.
Bron: ParadiseFM, geplaatst op 29 januari 2020door redactie curacao
De naam werd in de zestiende eeuw door ontdekkingsreizigers gegeven. In die periode was Portugal een belangrijker zeemacht dan Engeland of Spanje. Net zoals het dier joegen de Portugese schepen iedereen schrik aan. Bovendien doet de vorm van het dier met een beetje fantasie denken aan de helm die Portugese soldaten toen droegen. (bron: Wikipedia)
______________________
Sint Maarten stepping out of the monetary union
Advice Social economic Council Sint Maarten, February, 28th, 2013
Last year I wrote several times about this topic. reason was the economically/financially worsening situation in Curacao probably affecting the stable solid position between Antillean Guilder and United States Dollar (devaluation). Those article were published in the biggest newspaper here The Daily Herald in 2019. The aim was to get the topic on the table of the political people. However, it did not lead to any political noteworthy step or opinion on this matter, even while December 2019 was election time. Something that was also the case in 2013 when the Social Economic Council of St. Maarten published a clear advice. Not any concrete step taken.
Now, January 2020, the topic comes up politically because it is becoming more concrete. The financial problems in Curacao are that big (nearing bankruptcy of a Curacao based local bank) that government of Curacao proposes to raise the license fees for foreign transactions causing a rise in bank costs in the money transfers and consequently causing more guilders needed to pay importing goods (dollar based). Main question; why should St. Maarten have to pay for problems they are not causing, nor are involved in? Answer is: because Curacao and St. Maarten have a common monetary union. Now St. Maarten politicians waking up to do their say and being critical.
For all those (wanting to) waking up, please see below the advice already given by the Social Economic Council of St. Maarten in 2013 on this monetary matter. Her it comes.
It is made clear in this advice that because of the worsening of the current account imbalance on the part of Curaçao, a balance of payments crisis may take place, which, consequently, may lead to a sudden devaluation and inflation of the Netherlands Antillean Guilder for the entire monetary union. Because of this worrisome situation, the Social Economic Council of Sint Maarten strongly advises the government of Sint Maarten to step out of the monetary union which we currently form with Curaçao.
Stepping out of the monetary union leaves Sint Maarten with two choices: - to opt for dollarization - or to choose and design our new legal tender: the Sint Maarten Dollar However, whatever alternative Sint Maarten chooses, financial supervision, whether exercised through a Central Bank or an outsourced supervisory authority, will still play an important role in promoting monetary and financial stability.
Dollarization as described in this advice can have a net positive influence on Sint Maarten"s whole society: lower interest rates, lower transaction costs, capital mobility, more investments and the elimination of devaluation risk.
The banking sector will experience more competition from abroad and will thus feel pressure on their interest margin, losing income from currency conversion. But overall, the government of Sint Maarten will carry most costs, considering their loss of income and having no control over our own monetary policy with dollarization, as Sint Maarten accepts the monetary policy of the United States when dollarizing. Any issues with the US dollar as a currency will then be felt by Sint Maarten.
Dollarization can only have a positive effect on the investment climate as well as the standard of living, if some very important conditions are met. These conditions are first and foremost: a high level of fiscal discipline, and higher flexibility in price and wage levels. In a dollarized economy, financial institutions can still experience liquidity or solvency crises, but then the government is unable to exercise its lender of last resort function. For that reason, there must be a guarantee that there will always be sufficient US dollars available to keep Sint Maarten"s dollarized economy running: some guarantee against catastrophic shocks possibly in the form of a contingency plan (like a funded deposit guarantee scheme) to be realized with a private international agency or within in the Kingdom.
As we already stated in the introduction of this advice, Sint Maarten is already de facto dollarized, the Netherlands Antillean Guilder is in widespread use alongside the US dollar, and hence, there is no loss of confidence in the Netherlands Antillean Guilder (yet). Furthermore, Sint Maarten is not exercising the choice of dollarization because of hyperinflation or macro- economic instability. Dollarizing also means totally relying on and having no control over the US monetary policy.
However, for Sint Maarten, the current peg of the Antillean Guilder to the US Dollar has brought us a credible exchange rate stability and nearly low inflation for a very long time. With the peg our economy adapts to shocks and maintains competitiveness, but there has always been the risk of a sudden, sharp devaluation of our exchange rate, while in a dollarized economy there is no control over our own monetary policy, thus no possibility to devalue our exchange rate. Sint Maarten considers stepping out of the monetary union, because the current account deficit for the monetary union has risen to worrisome levels, putting our international reserves under pressure and ultimately requiring devaluation. Therefore, immediate action to leave the monetary union is required for Sint Maarten.
Regarding our own currency, with the inception of a newly to be established Central Bank for Sint Maarten, this Central Bank will be responsible to bring the Sint Maarten Dollar into circulation. In order to peg the Sint Maarten Dollar to the US Dollar, the government of Sint Maarten should continuously make an effort to control the value of the Sint Maarten Dollar, so it rises and falls as the US Dollar does. Similarly, fiscal policy must be as highly disciplined when choosing for our own new legal currency as it must be when dollarizing. In the end, it is up to Sint Maarten to uphold solid financial management and principles of good governance.
But, taking Curaçao"s new position into account regarding the CBCS, the inevitable question becomes; if politicians cannot agree on one common central bank, what will be the next best alternative for Sint Maarten? Given the current financial architecture, Curacao will probably carry forward the current central bank, although its revenue base will become smaller as a result of dividing the foreign exchange reserves with Sint Maarten and the omission of income from the issuance of banknotes and currency transactions with banks in Sint Maarten.
With respect to Sint Maarten, it is the question whether it will be able to sustain a full- fledged central bank in an effective manner. The small scale of our economy will not generate enough income to cover the operational costs. This means that the central bank will become dependent on government financing, which will undermine its independence and, hence, credibility. In general, a central bank contributes to government revenues, not the other way around. An own monetary policy and consequently an own full- fledged central bank is only necessary if you have your own currency.
Consequently the SER advises as follows:
1) For the government of Sint Maarten to decide to step out of the monetary union with Curaçao. Herein, Sint Maarten should set a realistic date, make a time schedule and start working with a professional taskforce on a strategic plan towards this goal. This professional task force can be installed with the help of The Netherlands and the BES islands who have recently gone through the process of dollarization.
2) Subsequently, since the US dollar is used so extensively on Sint Maarten and the transition to dollarization will not have a huge impact; official dollarization should be considered an efficient and achievable option for Sint Maarten, while at the same time in the dollarization process, the government is responsible to protect consumers against prices being raised or rounded off upwards to the consumer"s disadvantage.
3) For government to have a definite budget available to realize the transition to formally dollarize Sint Maarten.
4) That there should be a significant shift in the areas of responsibility of the Central Bank and the government of Sint Maarten respectively: the role of the Central Bank will be limited, if not nil, while that of the government of Sint Maarten conversely will become even more prominent. As a result it will become even more critical, that fiscal rules and benchmarks are legally embedded.
5) Regarding the supervision of the financial sector, which is an ongoing process, even if Sint Maarten dollarizes the SER recommends that it would be much more efficient and effective for Sint Maarten if the financial supervision would be outsourced. This is easy to establish, considering that most financial institutions on Sint Maarten are subsidiaries or branches of foreign-based companies.
6) That the government of Sint Maarten retains an adequate level of reserves to help mitigate the effects of economic shocks or aims towards Kingdom support in case of catastrophes.
7) That the government of Sint Maarten finds a way to compensate the loss of seigniorage revenues and the license fee revenues, in total estimated at approximately 29 million NAF.
8) In order to ensure that Sint Maarten"s financial supervision continues to occur in an optimal manner, that adoption and execution of the country"s budgets are balanced within the agreed limitations, and that there is control of the government budget, the SER also advises that the CFT should continue its independent supervision indefinitely, even after December 31st, 2015, when this supervisory body"s (first) term will be terminated.
(C) published here January 22th 2020
-------------------
Too much tourism; too much of a good thing?

The Central Bank of Aruba published last week a very interesting paper with research results regarding
overtourism. The Bank questions, based on certain indicators, if Aruba has overtourism and does some
recommendations how to deal with it. Because the same situation might be at stake at St. Maarten too I
copied some interesting remarks and findings below.
Let's find out if overtourism is here at St. Maarten too and how to deal with that.
Overtourism portrays relentless tourism growth – frequently unregulated – that has moved beyond the
level of acceptable change in a destination due to significant levels of tourism density (tourism exports-
to-national income), tourism intensity (total visitors-to-population), and tourism density (visitors per
km2) resulting in destruction of the natural environment, wear and tear of infrastructures and (cultural)
architectures, and the negative impacts on residents and tourists (Center for Responsible Travel, 2018).
(p.13)
The World Travel & Tourism Council (WTTC, 2017) describes several adverse effects of overtourism,
including pressures on infrastructure (i.e., transportation and energy), resource consumption and
pollution (i.e., leakage and waste), spatial and cultural alienation (i.e., real-estate and social identity),
and deterioration of the tourist experience (i.e., congestion and service quality). (p.14)
In reflecting on tourism life-cycles in the Caribbean, Cole (2007) indicates that an overshoot in tourism
arises from several interdependent factors, including e.g., (a) surpassing physical limits of beachfront or
coastal areas for resort construction, (b) increasing labor migration due to limited local workforce, (c)
growing visitors' sense of overcrowding, and (d) an escalation in residents feeling overwhelmed or
displaced by visitors and/or immigrant workers. The latter describes intensifying sentiments of visitor
annoyance and apathy by local communities (Doxey, 1975). (p.16)
One of the most enduring critiques of tourism is its non-inclusive development. They contend that
tourism oftentimes provides opportunities for the privileged, creating profits for international (non-
local) resorts, and building exclusive enclaves for the rich, thereby excluding the indigenous community,
marginalizing local cultures and lifestyles, and depleting scarce natural resources (Scheyvens & Biddulph,
2017). (p.17)
Direct channels of overtourism transmission describe diminishing (or negative) tourism contribution to
GDP [national income], declining average per-visitor expenditures, growing resource consumption.
(p.18).
Indirect channels of overtourism transmission include stagnant labor participation rates, limited or
declining income equality, uneven income distribution, foreign-ownership concentration of tourism
industry, spatial concentration of tourism industry, real-estate price inflation, environmental
degradation, loss of natural habitats, and diminishing contribution of tourism ecological services. More
importantly, the tourism industry is one of the main producers of CO2 emissions (Ewing-Chow, 2019;
Gossling, 2002, Isik et al, 2017; Lenzen et al., 2018); directly – due to travel and transportation – as well
as indirectly – as a result of tourism infrastructures, deforestation, construction activities, energy
consumption, food imports, and waste. Previous studies indicate that a 1 percent increase in tourism expenditures is associated with a 0.12 percent rise in CO2 emissions (Isik et al., 2017). It is estimated
that for every single US$ of tourism-related consumption in Caribbean destinations, one kg of CO2 is
produced (Ewing-Chow, 2019). (p.18/19)
Several studies indicate that tourism may have reached or surpassed its optimum growth. Although
limited, previous economic studies suggest that Aruba is experiencing a 'tourism exhaustion' effect (IMF,
2013; 2019) and may have become 'tourism saturated' (Pereira & Croes, 2018), in which tourism growth
is no longer delivering value-added with diminishing economic returns. Previous tourism studies have
indeed questioned how far and fast tourism can and should expand (Cole & Razak, 2009; Peterson,
2006). (p.26)
Analysis of available visitor satisfaction survey data (CBS, 2000-2016) reveals that overtourism is
negatively correlated with visitor satisfaction and perceived quality of tourism services. The findings
suggest that visitors are increasingly dissatisfied with the destination's cleanliness (-40.8 percent),
hospitality and friendliness (-26.5 percent), and local transportation (-12.6 percent), which may be
indicative of the negative effects of overtourism in terms of environmental pollution, workforce
exhaustion, and traffic congestion. (p.31)
Overtourism carries long-term costs for the public sector due to its indirect effect on government
expenditures. Whereas the growth in tourism drives government (tax) revenues in the short-term, in the
medium to long-term, rising levels of tourism intensity generate public sector costs in terms of, e.g.,
social security, health care insurance, and education, and other public sector services and
infrastructures. These costs stem largely from rapid population growth, population aging, and residential
urbanization. (p.33)
Although limited, initial evidence suggests that the overconsumption of tourism is partially responsible
for the loss of ecological services, which is currently estimated at 10 percent of GDP (see Table 6, Chart
6.6). (p.34)
The general perception of the community towards tourism and tourism growth is characterized by
substantial concerns and complaints about the overconstruction of tourism infrastructures, the
congestion and crowding (out) of beaches and public areas, the rising costs of living, and the loss of
cultural authenticity, natural habitats, and ecological biodiversity.(p.47)
In contrast to classical maxims of economic and tourism growth, this study finds no evidence that
economic growth is – automatically – good for social equality and environmental quality nor that
tourism is intrinsically beneficial to sustainable development. Whereas tourism has been and remains
the main economic driver of growth and employment in Aruba, the impact in terms of socioeconomic
and socioecological costs is substantial. This raises significant policy questions and development
concerns about the future [..]. (p.52)
Table: overtourism in select small island tourism economies in the Caribbean (CTO,2018; FCCA,2018; WTTC, 2017
Selected small islands ranked Population per km2 Total visitors to population Visitors per km2 Total tourism contribution to GDP [national income] Average of sub-indices
St. Maarten 0.93 0.89 1.00 0.88 0.92
Aruba 0.45 0.48 0.29 1.00 0.59
Cayman islands 0.17 1.00 0.21 0.22 0.48
British Virgin Islands 0.13 0.43 0.08 0.77 0.43
Anguilla 0.10 0.41 0.06 0.66 0.38
US Virgin Islands 0.21 0.39 0.11 0.62 0.37
Some recommendations to a sustainable and inclusive tourism
Social and environmental policies need to be set at the fore of future economic development, including
both macroeconomic and climate change developments. To mitigate the risks and costs of overtourism
and foster a more inclusive – less intrusive – model of tourism development, it is vital that labor market
participation and income equality as well as environmental health and ecological biodiversity are
restored. (p.54)
Integral to circular tourism is the improved flow of visitors, especially in congested and crowed areas.
The strict enforcement of land use and zoning rules, as well as the retrofitting of buildings and
infrastructures should be pursued. Building codes and environmental zoning rules should be adapted
with explicit consideration of overtourism and climate change risks. (p.55)
Several of the United Nations Sustainable Development Goals 2030 provide indicators and targets for
measuring, monitoring, and managing multiple key performance indicators, which are directly relevant
to overtourism and climate change. These indicators could provide an initial policy framework for
mitigating and adapting to the risks of climate change and overtourism. Additionally, it would ground
the policy roadmap towards 2030. (p.56)
This text above is some of the text in the paper of the Central Bank of Aruba, making clear that short
term revenues from tourism might also have its downsize on the longer term, related to the quality of
life of people at the end. Quality of life being the general well-being of individuals and society, based on
aspects as emotional, physical, material and social well-being, including everything from physical health,
family, education, employment, wealth, safety, security to freedom, religious beliefs, and the
environment. Too much tourism, causing on the longer run a decline in this quality-of-life-experience,
should be avoided. Too much tourism can be too much of a good thing.
The paper can be found on the website of the Central Bank of Aruba, called: "weathering overtourism
and climate change in small Island tourism economies".
(C)© Name withheld on request of the author, published as 'letter to the editor' in The Daily Herald of January 16th 2020
________________________
Welcome in the Caribbean;
Wipkamer in de gevangenis is geen mensenrecht

Persbureau Curacao
Willemstad – Het is nog maar de vraag of wipkamers in de gevangenis noodzakelijk zijn. Dat meldt de Raad van Advies, die vindt dat de argumentatie in het wetsvoorstel om dat te regelen niet overtuigt.
Zo klopt de redenering niet dat het onthouden van seks met je partner in de gevangenis een schending oplevert van mensenrechten. Ook zou bezoek zonder toezicht niet persé bijdragen aan een betere terugkeer in de maatschappij.
© Curacao.nu, geplaatst op 16 januari 2020 door redactie knipselkrant curacao
Maak een Gratis Website met

JouwWeb